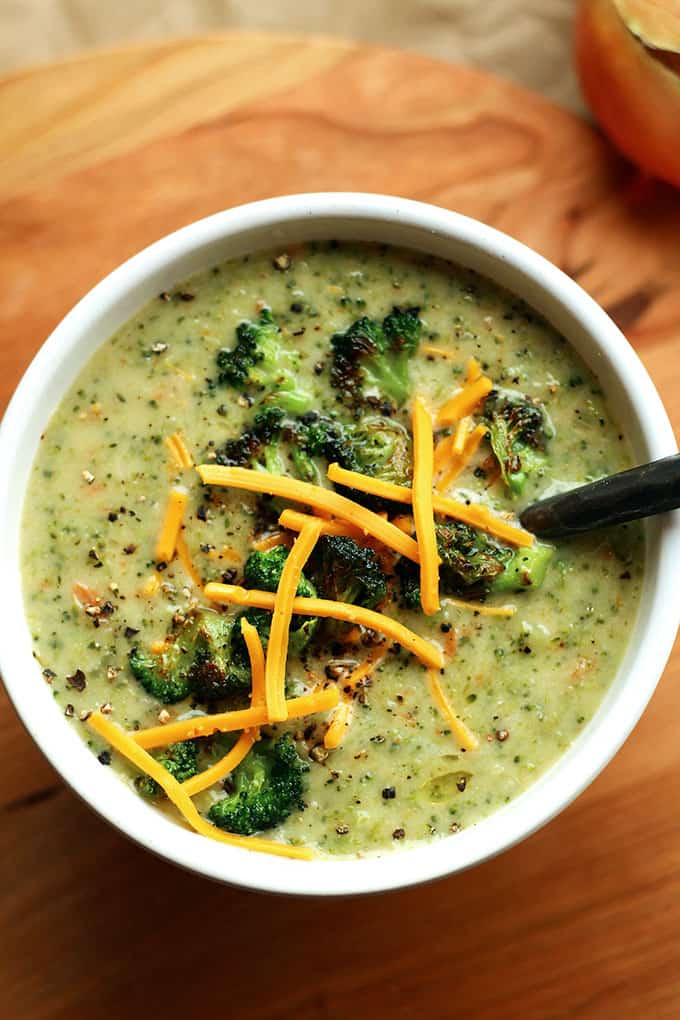 This Creamy Vegan Broccoli Soup is perfect for chilly weather. It's nearly the end of January, it's cold, Christmas is over, and winter is starting to feel old, real old.
If you're a New Years' resolution kinda person, specifically one of the many people with resolutions such as "Lose weight" or "Eat healthier", you might be feeling tired of typical healthy January meals.
The problem with New Years resolutions (actually there's a number of problems, but we won't get into that now) is that healthy eating and losing weight tend to go hand in hand with things like salads and smoothies. But salads and smoothies don't go particularly well with the dead of winter, ya know? Jump to recipe →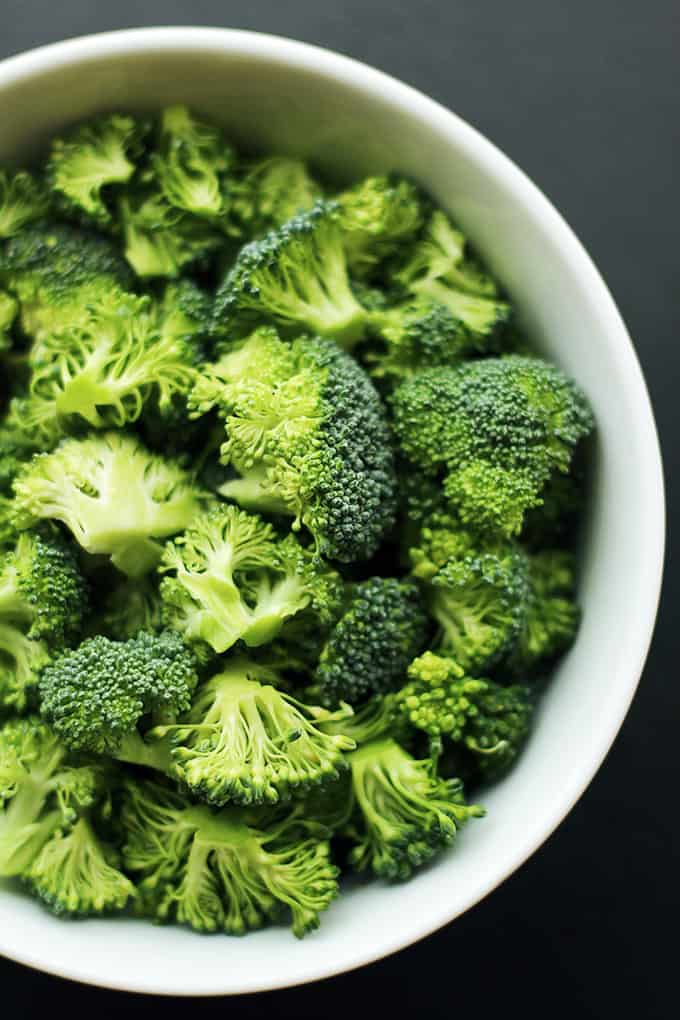 Petition to move New Years to June? Salads and smoothies go really well with June!
Until then, let's talk about foods that DO go well with the middle of winter. Foods like warming soups, hearty veggie bowls, pastas, and casseroles. Now we're talking!
So in the spirit of some proper "January" food, a.k.a. healthy yet hearty warming dishes that come together easily and quickly, a creamy vegetable-filled soup is just perfect.
And a quick note, if you love vegan soups as much as I do, be sure to check out our other soup recipes like this Vegan Leek & Potato Soup or our Creamy Red Coconut Curry Soup. Or browse all of our vegan soups!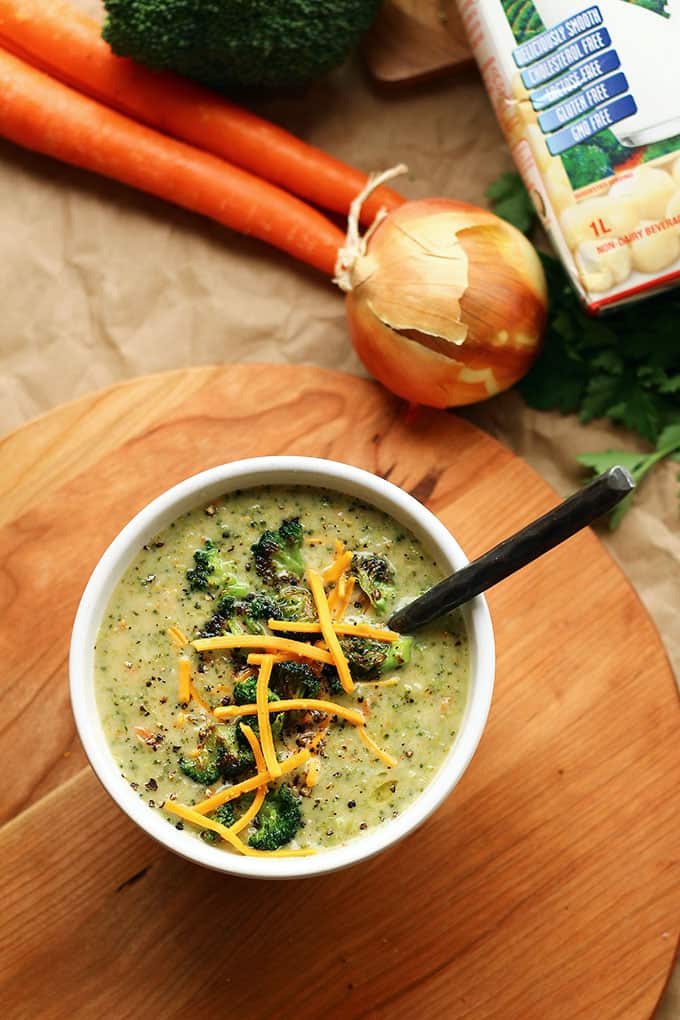 This creamy vegan broccoli soup is exactly what we all need right now. Flavourful, creamy, packed with veggies, and the perfect accompaniment to a whole grain sandwich, a salad, or maybe just a big ol' crusty bun or piece of bread with a healthy dose of vegan butter.
Recently, I had a chance encounter with the best cream of broccoli soup I'd ever had. See, I have an unfortunate tendency to walk away from my cooking to do silly things like, check my Instagram, paint my nails, mix myself a drink, whatever.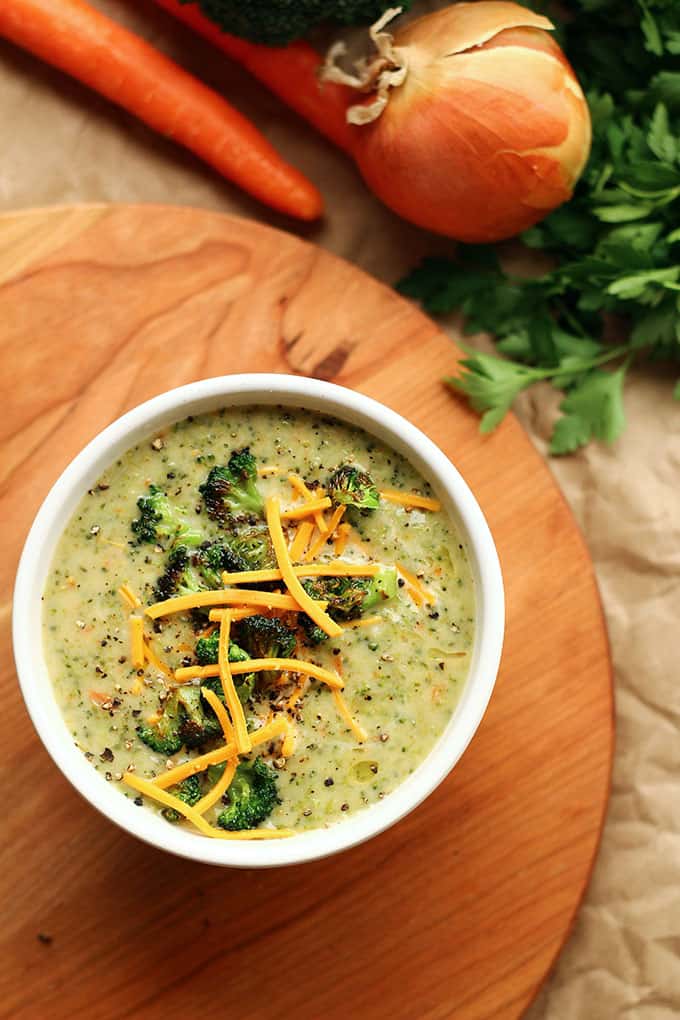 A few weeks ago, while sautéeing the broccoli + mirepoix for yet another batch of cream of broccoli soup, I left my saucepan to its own devices and accidentally browned a good thick layer of the vegetables. If you've read many soup recipes you'll know it usually says to sweat the vegetables and will specifically state "do not brown." Wooops! Alas, the caramel-ly notes from the browned veggies added some serious umami to my usual broccoli soup recipe.
That bit of fate inspired me to try topping this soup with some well-browned and seasoned broccoli florets. They're kinda like croutons, but they taste even better, and they're vegetables, so they get BIG January points! I also like to top my soup with a drizzle of olive oil + cracked pepper. So pretty! *heart eyes emoji*. Vegan cheese shreds are another delicious, yet totally optional, topping for this soup.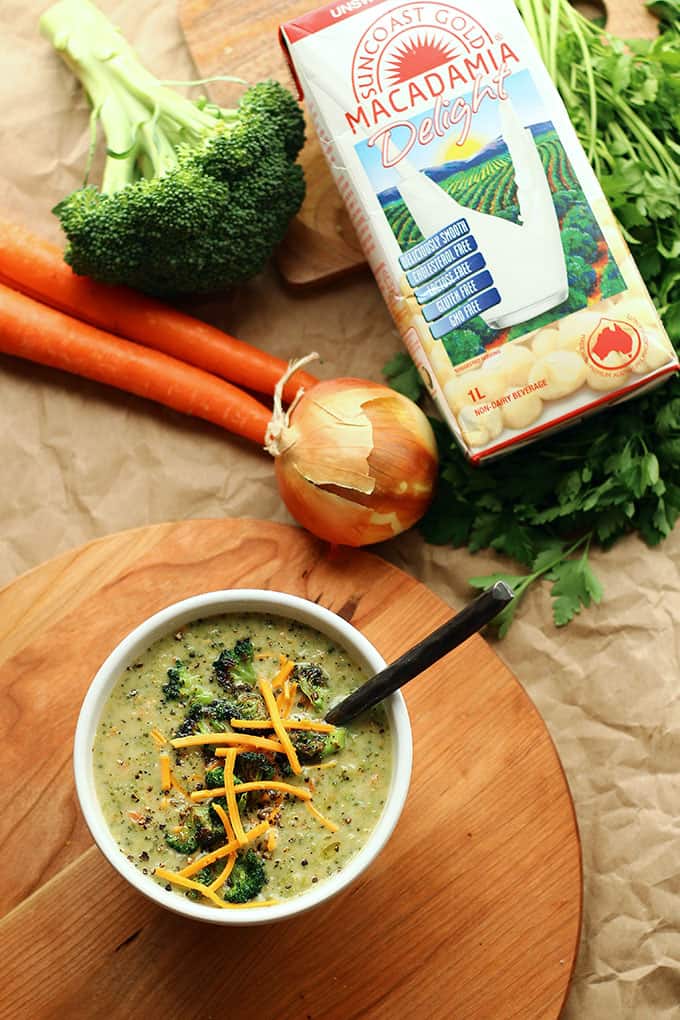 Recipe updated November 2019. Changes made:  Doubled soup recipe and portion size. Vegetable broth increased to 4 cups from 2½-3 cups. Coconut milk increased to ¾ cup from ½ cup. Added 1 teaspoon white wine vinegar. Original cashew milk recommended instead of unsweetened macadamia milk (previously recommended brand no longer available). Note added for using original vs. unsweetened non-dairy milk.
Added nutrition information and recipe notes to address common questions. Updated recipe yield, prep time, and cooking time. Fixed issues with recipe scaling (for accurate doubling and tripling).
Print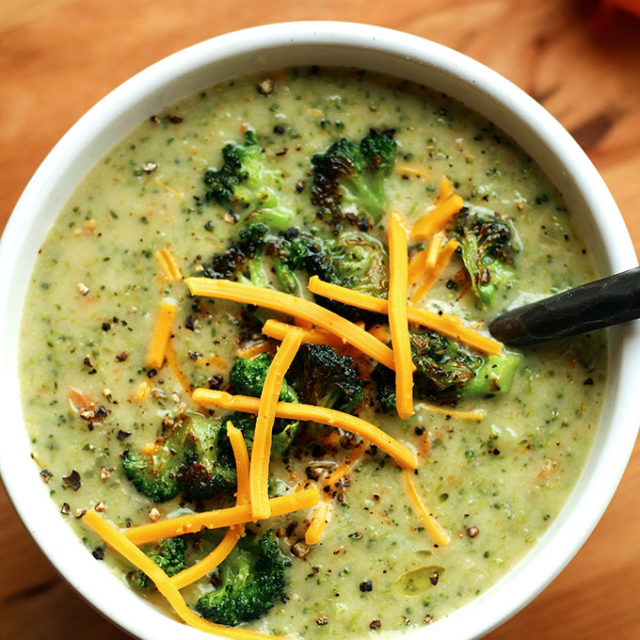 Creamy Vegan Broccoli Soup
Author:

Prep Time:

15 minutes

Cook Time:

35 minutes

Total Time:

50 minutes

Yield:

8 cups

1

x

Category:

Soup

Method:

Stovetop

Cuisine:

Vegan
---
Description
This Creamy Vegan Broccoli soup is easy, hearty and healthy. Top this delicious soup with browned broccoli "croutons" and a sprinkle of vegan cheese shreds.
---
Creamy Vegan Broccoli Soup
¼ cup

(

60

ml) vegan butter or olive oil

5 cups

(

360 grams

) broccoli, chopped (approx. 2 heads)

⅔ cup

(

100 grams

) chopped carrots (approx. 2 carrots)

⅔ cup

(

100 grams

) chopped celery (approx. 2 ribs)

⅔ cups

(

100 grams

) chopped onion, (approx. 1 onion)

2

cloves garlic, minced

6 tbsp

(

65 grams

) flour

4 cups

(

1000

ml) vegetable broth

2 cups

(

500

ml) original or unsweetened non-dairy milk (I recommend original cashew)

¾ cup

 (

185

ml) full-fat canned coconut milk (or sub with more non-dairy milk)

¼ cup

(

20 grams

) nutritional yeast flakes (or sub with vegan cheese shreds)

1 tsp

(

5

ml) white wine vinegar or lemon juice

½ tsp

(

2.5

ml) salt, to taste
Black pepper, to taste
Browned Broccoli "Croutons"
1 cup

(

70 grams

) broccoli florets

1 tbsp

(

15

ml) olive oil
Salt, to taste
---
Instructions
Creamy Vegan Broccoli Soup
In a medium saucepan, heat vegan butter or olive oil over medium heat. Add the broccoli, carrot, celery, onion, and garlic. Sauté until onion is translucent and just tender, about 5 minutes.
Sprinkle vegetables with flour. Cook for 1-2 minutes, stirring often.
Gradually add vegetable broth and non-dairy milk, stirring constantly to prevent lumps. Add the coconut milk and nutritional yeast. Simmer soup over medium-low heat for 10-15 minutes, or until the vegetables are tender.
Blend the soup to your liking. I recommend puréeing 

½

to

⅔

of the soup smooth.
If desired, adjust consistency with vegetable broth or non-dairy milk. Stir in white wine vinegar. Taste and adjust seasoning with salt, pepper, vinegar, (and if desired, sugar if using unsweetened non-dairy milk - refer to recipe notes).
Browned Broccoli Croutons
In a separate saucepan or skillet, heat olive oil over medium heat.
Add the broccoli florets and sprinkle with salt. Sauté until just nearly tender. Turn the heat up to high and continue to cook, stirring sporadically, until the broccoli has a nice brown/black edge on at least 1 side. Remove from heat and set aside.
Serving
Ladle soup into bowls. Drizzle with a little bit of olive oil, top with browned broccoli florets, vegan cheese shreds (optional), and cracked black pepper. Serve with crackers, bread, sandwich or salad. Enjoy!
---
Notes
Recipe updated November 2019. Recipe doubled. Vegetable broth increased to 4 cups from 2½-3 cups. Coconut milk increased to ¾ cup from ½ cup. Added 1 teaspoon white wine vinegar.
Cool before storing in an air-tight container in refrigerator. Lasts for 3-4 days in the fridge. Reheat in saucepan or microwave. Freezer-friendly up to 2-3 months.
If using low or no sodium vegetable broth, add salt to taste.
If using unsweetened non-dairy milk, add up to 2 teaspoon of sugar for best flavour.
Keywords: vegan broccoli soup, vegan cream of broccoli soup, creamy vegan broccoli soup