These Vegan Rice Paper Rolls are filled with flavourful strips of seasoned Sriracha & Soy Sauce tofu, and fresh crispy vegetables. Roll 'em up and dip these vegan summer rolls in sweet and spicy peanut sauce. Eating fresh vegetables has never been this delicious!
I spent the majority of my early vegetarian years eating a balanced diet of carbs and cheese. My Dad used to joke about me being "the vegetarian who doesn't eat vegetables".
It wasn't until I began studying cooking in college that I fell in love with vegetables. Why? Because that is when I learned that there are countless amazing ways to prepare vegetables so that they taste not just good, but amazing!
Still though, I didn't start appreciating raw vegetables (you know, without the pool of ranch dressing) until after I went vegan. One of my tricks to eating mass amounts of fresh vegetables? Baked Sriracha and Soy Sauce Tofu. It pairs SO well with raw vegetables, whether it's salads, vegan lunch bowls, veggie wraps, veggie sandwiches, or fresh spring rolls!
This is a recipe I come back to over and over again. I LOVE making these Vegan Rice Paper Rolls and serving them with lots and lots of peanut sauce. They're filled with seasoned tofu and thinly-sliced red bell pepper, cucumber, carrot, spinach, and green onion. These vegan summer rolls are simple but oh so delicious.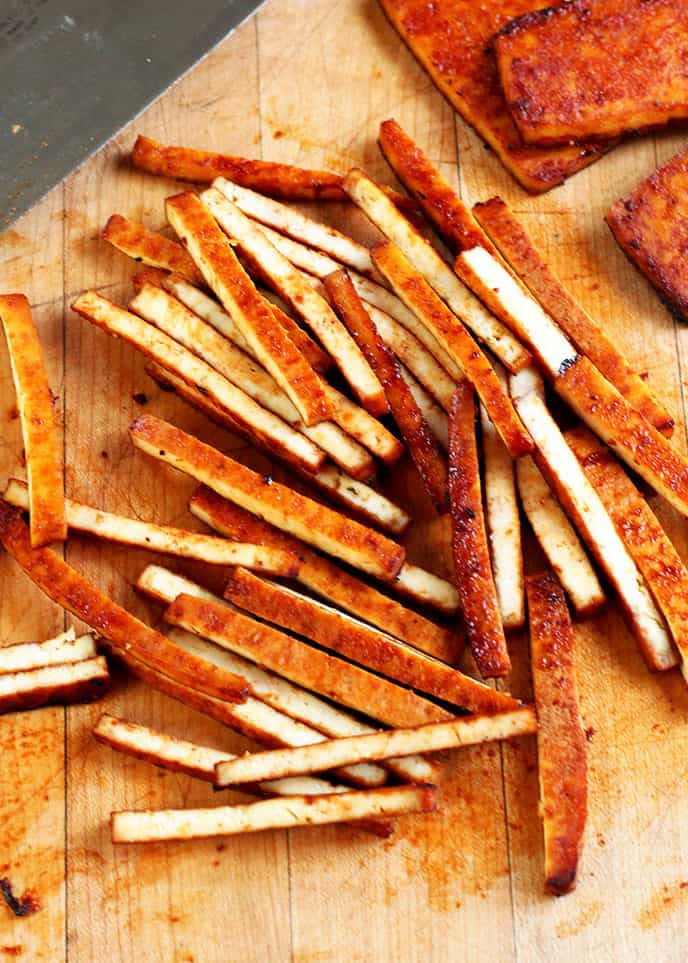 This is definitely my favourite way to eat vegetables. These vegan rice paper rolls are:
high in nutrients (protein and fibre plus tons of vitamins and minerals!)
light but super satisfying
customizable to your liking
a great way to eat tons of fresh produce
SO DELICIOUS you won't believe that you're eating mostly raw vegetables!
quick to prepare (and easy to make lots at once)
great for lunches and make ahead meals
very easy to make (after you get the hang rolling the rice wraps themselves!)
In my Baked Sriracha and Soy Sauce Tofu recipe I recommend cutting a block of tofu into 1"x1" squares, but for this recipe you're going to cut it into ¼" slices. I usually like to increase the soy sauce and sriracha mixture and baste it on multiple times while the tofu bakes. In this vegan summer roll recipe the strips of seasoned tofu create these amazing pops of flavour throughout the whole roll, so flavourful tofu is a must!
Until a month ago, I'd never used Vietnamese spring roll wrappers. Have you used them before? They seemed SO weird when I first tried using them! They can be a little tricky to use at first, but you just have to get to know their little quirks, and learn how to work around them. Through trial and error I've learned some valuable tips that should help you get used to using rice wraps ASAP!
(Edited to add: The tips below is what works best for me, but it's not technically the proper way to hydrate rice papers. Check out the comments for additional tips.)
My tips for wrapping the spring/crunchy rolls:
Check out the comments! The method below works for me, but many readers have suggested better ways to make these!
Soak them in HOT water - The wraps hydrate much faster when you use hot water. I just use tap water turned as hot as possible.
Soak them for LONGER than the package indicates - The directions on my package of rice wraps suggests soaking each wrap for 10 seconds. In my experience, this is nowhere near long enough. I soak mine for AT LEAST 30 seconds. How long you soak your rice wraps will completely depend on the type/brand of rice paper you use. From looking on the internet it seems like most people soak their wraps for 3-5 seconds, but I can't work with mine without soaking them until completely soft and flexible.
Lightly shake off the excess water - Before placing them on your work surface
Lay hydrated rice wraps on a hard/sturdy surface - I suggest laying them straight onto your counter. I don't recommend using a cutting board or textured surface.
Let the wrap sit on your counter for 30 seconds or so before working with it - This helps the wrap absorb the last of the moisture before you start to assemble. The rice wraps WILL NOT stick properly if they're sopping wet. They need to get a little tacky/sticky before you work with them.
And if that's not enough to make you a pro, I've included a nifty little GIF to show you how I roll mine!
You can save a lot of time and effort making these Vegan Rice Paper Rolls by using a food processor, vegetable peeler, or vegetable slicer/mandolin, to prepare the vegetables. They usually don't look quite as pretty but they still taste delicious!
I hope you love these Vegan Rice Paper Rolls (and peanut sauce!) as much as I do! Enjoy!
Print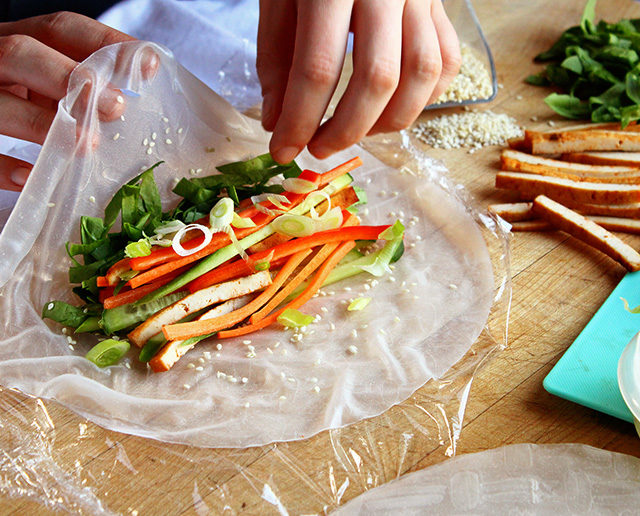 Vegan Rice Paper Rolls with Sriracha & Soy Sauce Tofu (served with a spicy-sweet peanut sauce!)
Author:

Prep Time:

45 minutes

Total Time:

45 minutes

Yield:

6

-

9

rolls

1

x

Category:

Lunch and Dinner

Cuisine:

Vegan
---
Description
These Vegan Rice Paper Rolls are filled with flavourful strips of seasoned Sriracha & Soy Sauce tofu, and fresh crispy vegetables. Roll 'em up and dip these vegan summer rolls in sweet and spicy peanut sauce. Eating fresh vegetables has never been this delicious!
---
Fresh Vegetable Crunchy Rolls with Sriracha & Soy Sauce Tofu
½

red pepper, julienned

1

large carrot, julienned

⅓

-

½

long English cucumber, julienned

3

green onions, thinly sliced on a diagonal
small handful of baby spinach, gently bunched up and sliced thinly

½

-

1

full recipe of Baked Sriracha & Soy Sauce Tofu (optional: double the marinade), chilled and cut into thin strips
sesame seeds

6

-

9

 rice papers (I used

22

cm papers)
Peanut Sauce:
2 tbsp

(

30

ml) soy sauce (or Bragg's Liquid Aminos - GF)

3 tbsp

(

45

ml) peanut butter

1 tbsp

(

15

ml) sriracha

1 tbsp

(

15

ml) chili garlic sauce (can substitute with

1

more tablespoon sriracha)

1 tbsp

(

15

ml) sesame oil

1 tbsp

(

15

ml) brown sugar (or maple syrup)

1 tbsp

(

15

ml) sesame seeds

2

-

3

tbsp (30-45ml) water to thin
---
Instructions
Fresh Vegetable Crunchy Rolls with Sriracha & Soy Sauce Tofu:
While the tofu is baking you can begin to prepare all of your ingredients. Finely julienne the red pepper, carrot, and cucumber (you can use a julienne peeler for the carrot and cucumber as well) I aim for slices between 4-5 inches long (but this depends on the size of your rice paper, mine are about 8" (20 cm).) Thinly slice the spinach and green onion.
Once the tofu has finished baking, place it in the fridge to chill. In the meantime you can mix up the Spicy-Sweet Peanut Sauce (recipe below.)
Cut your chilled tofu into thin strips.
Prep your area. Find a nice clean space of counter to work on and fill a large bowl or pie plate with HOT water. Grab your sesame seeds and all of your prepped veggies.
Assembly
Soak a single rice paper in the hot water until it's completely soft and flexible. This could take anywhere from a few seconds to more than 30 seconds depending on the brand/type of rice paper. I have best results soaking them for about 30 seconds.
Gently shake the excess water from the rice paper, lay it straight out onto your work space.
Let it sit for about 30 seconds to absorb any excess water, The papers won't stick together properly if they're really wet.
Sprinkle some sesame seeds in the center of the wrap.
Lay the julienned vegetables down in the middle of the wrap. Use approximately ⅕ of each ingredients per wrap (use a little more or a little less depening on how many wraps you want to make and how big you'd like them to be.) I like to fill mine with a little bit of spinach, lots of cucumber and carrot, a little red pepper, and lots of tofu topped with a sprinkle of green onion.
Try to keep the fillings laid neatly, making sure to leave ample room on each side to easily fold the wrap.
Rolling:
Lift the side of the rice paper that's closest to you, gently pull it forward (away from you) over the fillings. Hold the wrap firmly while you fold in each end of the wrap. Continue rolling to seal the seam. Refer to the GIF above for a demo.
Spicy-Sweet Peanut Sauce:
Combine all ingredients in a bowl and whisk vigorously OR combine all ingredients in food processor and pulse.
Store extra sauce in the fridge. I like to keep mine in a glass salad dressing bottle. It may thicken up when refrigerated, I just run my bottle under hot running tap water until it softens back to a liquid.
Makes approx. ½ cup of sauce.
---
Notes
Use a food processor or vegetable slicer/mandolin to make slicing the veggies quick and easy!