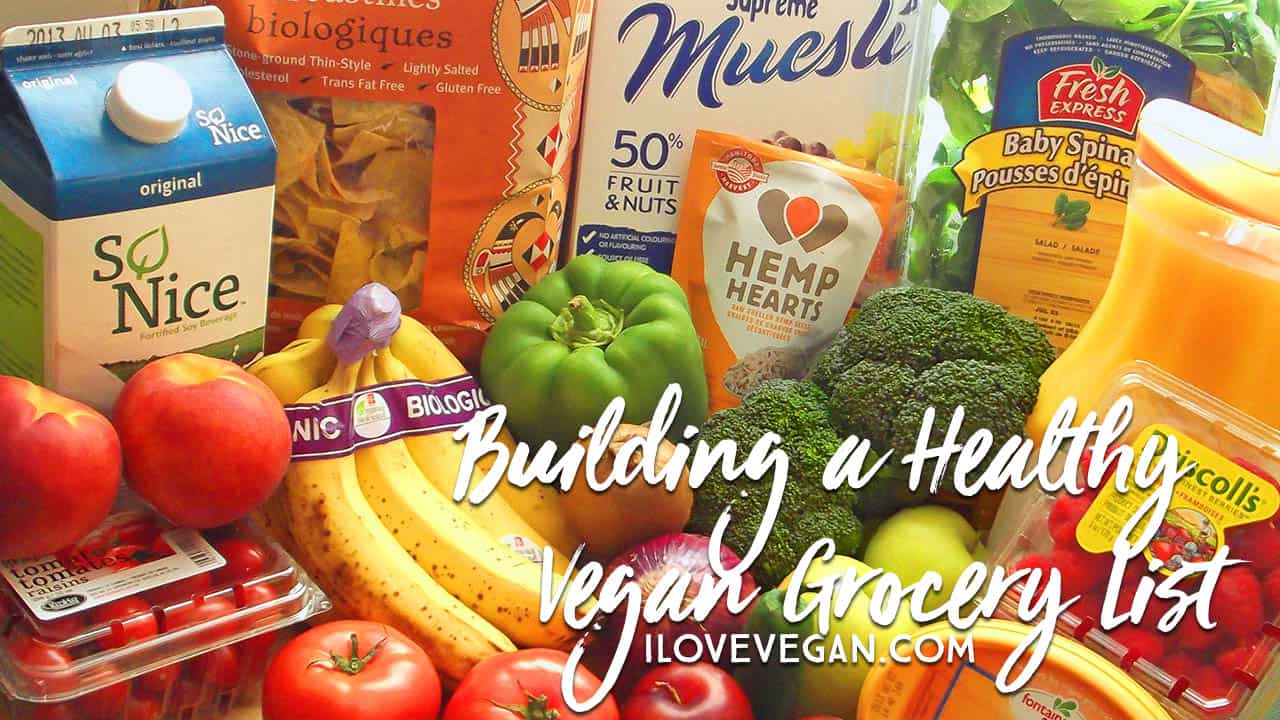 There are so many amazing vegan foods out there, you may be surprised by just how many options there are! Here's just a few examples of some of the foods vegans eat.
FRUITS & VEGETABLES
Buy fruits and vegetables from all the categories below. Pick up affordable basics like carrots, apples, bananas, and celery, and supplement with produce that's on sale/in season.
Fruits
Frozen fruit is useful for smoothies and baking (previously frozen fruit for topping oatmeal or non-dairy yogurts) Dried fruit can be taken on the go with nuts or trail mix used as a topping for breakfast cereal, and in baking.

FRESH
Apples

Pears

Kiwis

Oranges

Grapefruit

Lemons

Limes

Peaches

Plums

Nectarines

Bananas

Raspberries

Blackberries

Watermelon

Honeydew

Cantaloupe

Apricots

Grapes

Mangoes

Cherries

Strawberries

Blueberries
FROZEN
Strawberries

Raspberries

Blueberries

Mixed berry blends

Sweet cherries

Mango

Mixed fruit blends
DRIED
Raisins

Currants

Cranberries

Apricots

Dates

Figs

Apple slices

Banana chips

Vegetables
Buy a few vegetables to eat raw in salads, sandwiches, or with dips. Pick up at least 1-2 leafy greens for salad bases and sandwiches. Buy a few vegetables to eat raw in salads, sandwiches, or with dips. Choose a variety of fresh or frozen vegetables that are good for steaming, sautéing, stir-frying, and roasting. Frozen vegetables are a great staple and are very versatile. You can pick up extra when they're on sale without worrying about spoilage, they're easy to prepare in hurry, and can be a great healthy backup option if you miss a grocery shopping trip. Frozen produce is typically more nutrient dense than fresh produce, because it's flash frozen at its peak ripeness.

FRESH (Raw & Cooking)
Broccoli

Carrots

Celery

Cauliflower

Cucumbers

Snap peas

Tomatoes

Bell peppers

Avocado
FRESH (Cooking)
Zucchini

Mushrooms

Squashes

Asparagus

Kale

Garlic
FRESH (Leafy Greens)
Baby kale

Baby spinach

Romaine

Butter lettuce

Leaf lettuce

Salad mixes
FROZEN
Broccoli

Asparagus

Spinach

Corn

Peas

Edamame

Stir-fry mixes
GRAINS, BEANS & LEGUMES
Keep 2 or more 100% whole grain bakery products on hand for making sandwiches, wraps, or pitas. These products freeze well - keep a selection in your freezer and just thaw single servings as needed. Keep 2-3 whole grains/starches and a few different types of beans, legumes, and soy products. Mix and match them and add a vegetable side dish for a complete meal. Oatmeal is great to keep on hand for easy, healthy breakfasts. Look for quick, rolled, or steel-cut oats and avoid most instant oatmeal packets.
100% WHOLE WHEAT
Bread

Tortillas

English muffins

Bagels

Pitas

Pasta
WHOLE GRAINS & STARCHES
Oatmeal (quick, rolled, or steel-cut)

Brown rice

Quinoa

Seitan (wheat gluten)

Sweet potatoes

Russet potatoes
BEANS & LEGUMES
Chickpeas (canned/dry)

Black beans (canned/dry)

Kidney beans

Lentils (dry)

Hummus

Veggie burgers (lentil, bean, or vegetable based)

Edamame (frozen)
SOY PRODUCTS
Firm tofu

Soft/silken tofu

Smoked/marinated tofu

Tempeh

Soy milk



HEALTHY FATS
Healthy fats are a very important part of a healthy vegan diet! Include a wide selection of items from this list to make sure a good balance of omega 3 and 6 essential fatty acids. Keep a couple of different whole foods like avocado, dark chocolate, nuts/seeds, or olives on hand for snacking, at least 1 nut/seed butter for dipping fruit, spreading on toast, or adding to oatmeal, and a couple of different oils for cooking, making salad dressings, or supplementation. Larger quantities of nuts and seeds should be kept in the freezer to prevent spoilage.

High Fat Foods
Avocado

Edamame

Coconut milk

Dark chocolate

Olives

Hummus
Oils
Coconut oil

Flax seed oil

Sesame oil

Olive oil

Canola oil

Vegan "butter"

Vegan margarine
Nuts & Seeds
Peanut butter

Almond/Nut butters

Almonds

Cashews

Walnuts

Pecans

Sunflower seeds

Sunflower seed butter

Pumpkin seeds

Chia seeds

Ground flax seeds

Sesame seeds

Tahini (sesame butter)



NON-DAIRY PRODUCTS
Choose 1 unsweetened non-dairy milk for all-purpose use in savoury cooking, baking, and smoothies. Choose 1 great tasting non-dairy milk to add to tea, coffee, or for enjoying straight. Choose whichever plant-based milk you enjoy the flavour of most. Soy milk is great because it's high in protein and mimics the nutritional profile of cow's milk. Vanilla, chocolate or other flavours are great for sweetening and flavouring coffee.
MILK
Soy milk

Almond milk

Cashew milk

Oat milk

Coconut milk

Rice milk

Hemp milk

Flax milk
YOGURT/CHEESE/BUTTER
Soy/almond/




coconut yogurt

Tofu desserts

Vegan butter/




margarine

Vegan cheese shreds/slices

Vegan cream cheese

Nutritional yeast
VEGAN PANTRY
A selection of condiments, herbs, and spices on hand makes it easy to diversify your meals. These items tend to last a long time, so wastage isn't much of an issue. Buy dried herbs or spices you don't use very often from the bulk section in smaller amounts. For fresh herbs, wash and freeze any leftovers that you won't use right away.
Keep at least 2-3 various sweeteners in your kitchen (1 for sweetening hot beverages like coffee and tea, 1 for sweetening oatmeal, topping pancakes and toast, and 1 for baking and general use.)

SWEETENERS
Organic cane sugar

Agave syrup

Maple syrup

Molasses

Coconut sugar

Fruit preserves

Dates

Dried fruits

Dark chocolate chips

Stevia
FLAVOURS, HERBS, & SPICES
Basil

Oregano

Thyme

Cumin

Turmeric

Chili powder

Cinnamon

Salt

Pepper
CONDIMENTS
Salsa

Hummus

Soy sauce

Sriracha

Mustard

Vegan mayo

Vegetable bouillon

Nutritional yeast

Lemon/lime juice

Vinegar (white, balsamic
COOKING & BAKING
Whole grain flour

Baking powder

Baking soda

Corn starch

Apple cider vinegar

Coconut oil

Earth Balance Butter

Ground flax seed

Yeast