Back-to-school season is right around the corner! If there was ever a good time to readdress what you've been brown baggin', September is one of them. Whether you pack a lunch for school or for work, this post is full of ideas, loaded with plant-based goodness, and the recipes are totally customizable.
We've got 4 easy, make-ahead lunches that are both satisfying and healthy and 10 super easy snacks (with an even mix of sweet and savoury.) Make sure to scroll down to the bottom of the post for more packed lunch links and inspiration!
Make-Ahead Lunches
What's the first thing you're going to notice about these super easy, make-ahead lunches? CHICKPEAS! Yes, every one of these recipes uses canned chickpeas. You can totally swap them for home-cooked chickpeas but in the name of convenience, these all call for canned.
These prepared lunches take between 20-30 minutes to prep and make 2-6 servings.
Chickpea Quinoa Salad with Orange Soy & Sesame Dressing
Time: 30 minutes | Servings: 6-7 cups
This hearty salad is absolutely loaded with good-for-you ingredients like chickpeas, quinoa, pumpkin seeds, sesame seeds, hemp seeds, kale, nutritional yeast, garlic, ginger, red and green bell peppers (just to name a few!) You can make this salad with quinoa or couscous (Quinoa has slightly more protein and quite a bit more fibre than couscous, but couscous is easier to prepare and cooks more quickly.)
Substitutions: Add more bulk and zippy flavour with chopped and chilled Baked Sriracha & Soy Sauce Tofu. Lighten up and extend the servings by doubling the vegetables or by adding some of your favourites (like finely chopped broccoli, spinach, and celery!)
Chickpea Salad Sandwiches
Time: 20 minutes | Servings: 2 cups (4-6 sandwiches)
My chickpea + lentil salad is one of my most popular recipes. My favourite way to serve it? In a sandwich, on sprouted grain bread with LOTS of lettuce. You can also serve it as a dip with your favourite crackers or tortilla chips.
Substitutions: To save a couple of steps and a little bit of time, just use canned chickpeas in place of the red lentils.
Roasted Veggie Quinoa Bowl
Time: 30 minutes | Servings: 2-3
This easy roasted lunch bowl is my second most popular recipe. It's incredibly easy and FULL of flavour. The chickpeas, broccoli, and sweet potato are all oven-roasted, meanwhile you're simmering the quinoa and sautéing the kale. Within 30 minutes you'll have a flavour packed, 5-component, healthy plant-based meal.
Substitutions: Double this recipe for a little more bang for your buck, work:serving wise.
Easy Chickpea Curry Soup
Time: 25 minutes | Servings: 4 cups
This recipe has been my saving grace when it comes to quickly packed, healthy + nutritious lunches. I love packing this soup in a thermos with a bag of crackers or "buttered" (vegan) whole grain bread. In this picture I've topped my soup with unsweetened vegan yogurt, pumpkin seeds, paprika, and black pepper, and served it with flax crackers.
Easy Sweet Snacks
Non-Dairy Yogurt + Frozen Berries and Granola
Time: 5-10 minutes
Yogurt, berry, and granola parfaits are a packed lunch dream. These days, plant-based yogurts are easy to come by. I like to add a squeeze of agave nectar or maple syrup to the unsweetened varieties. Pack your yogurt + fresh or frozen berries together in one container, and pack granola in a separate container to keep it from getting soggy.
Substitutions: If non-dairy yogurt is unavailable in your area, try searching for tofu dessert or make chia seed pudding.
Energy Bars (Homemade or Store-bought)
Time: 0-25 minutes
Is there anything easier than grabbing an energy bar before running off to work or school? You can either grab them at the store (I LOVE these VEGA snack bars! No weird ingredients, lots of healthy whole food ingredients, and of course, CHOCOLATE!) Or you can make your own bars at home. I love to make date-based bars because they're SO EASY. I've included my go-to 2 ingredient bars below.
Chewy Cashew Bars: 1 cup raw cashews + 1 ⅓ cups soft dates (pitted), processed in a food processor until mixture begins to stick together. Press into a loaf pan, chill, and slice into bars. Wrap individually and store in the fridge.
Mare bar & bites recipes: Peanut Butter & Chocolate Superfood Bites, Oatmeal Protein Bars, Easy Vegan Chocolate Granola Bars
Pretzels + Dark Chocolate + Peanut Butter
Time: 5 minutes
Pretzels + PB is one of my go-to snacks, with the addition of dark chocolate we've got all of our sweet n' salty bases covered.
Substitutions: Not a fan of dark chocolate? Pick up a vegan chocolate-y peanut butter, use or "chocolate protein peanut butter" from above, or swap out the dark chocolate for one of the many vegan "milk" chocolate options like rice milk chocolate or coconut milk chocolate.
Apple + Chocolate Protein Peanut Butter
Time: 5 minutes
Apples + Peanut butter is another lunchbox staple. For added protein, sweetness and a touch of decadence I add 1-2 tablespoon of hemp hearts, a little agave (or maple syrup), some cocoa, and some chopped dark chocolate.
Chocolate Protein Peanut Butter: Combine 2 tablespoon peanut butter with 1-2 tablespoon hemp hearts, 2 teaspoon agave nectar, ½ tablespoon of cocoa, and 1-2 tablespoon chopped dark chocolate (optional)
Chocolate Non-Dairy Milk and/or Non-Dairy Coffee Creamer
Time: 0-5 minutes
As a coffee drinker, vegan non-dairy "creamers" are a must. My city isn't at a point where plant-based coffee options are available wherever I go, you know? Silk Vanilla Coconut Coffee Whitener or Silk Almond Dark Chocolate Singles are both great coffee options that you can keep in your lunchbox. Note: The "creamer" options should be refrigerated but the tetrapack singles are suitable for lockers, purses, backpacks etc.
Substitutions: Portioning out your favourite non-dairy milk is another more cost-effective option. At home, I'm a Silk Vanilla Soymilk kinda girl. When I'm organized, I've been known to step out with a mason jar full of the stuff when I'm going out for coffee.
Simple Savoury Snacks
Crackers with Smoked Tofu + Dill Pickles
Time: Less than 10 minutes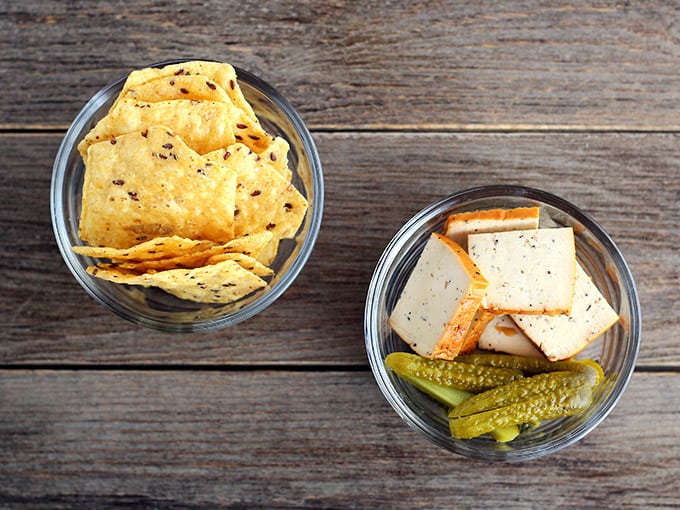 I was never a fan of those pre-made lunch kits as a kid, but I did love crackers with cheese and pickles (bonus points if the cheese happened to be smoked gouda!) Now that I'm vegan, my favourite plant-based option is smoked tofu (in this case, smoked black pepper tofu) with crunchy, garlicky dill pickles and crackers.
Substitutions: Swap out smoked tofu for Baked Sriracha & Soy Sauce Tofu.
Salsa + Tortilla Chips
Time: Less than 5 minutes
Salsa and tortilla chips is a classic "at home in front of the TV" kinda snack. Why not pack it to go too?
Substitutions: Add a mashed avocado and/or hummus (with hemp seeds) for a heartier snack.
Avocado + S&P + Lime juice
Time: Less than 5 minutes
Can a packed snack get any easier or healthier than a ripe avocado packed with a sharp knife, a little salt and pepper, and a wedge of lemon or lime? Probably not.
Substitutions: Add more bulk by serving with some crackers, tortilla chips, or pretzels. Add fortified nutritional yeast (packed in a separate container) for a boost of B vitamins (including B12) and protein.
Crunchy Sriracha + Soy Sauce Roasted Chickpeas
Time: 40 minutes (10 minutes active)
Spicy seasoned chickpeas are roasted till crunchy to create the perfect healthy savoury snack. These little beans can be seasoned however you like 'em and are packed with protein and fibre! FInd out how to make this tasty snack by visiting our recipe for Roasted Veggie Quinoa Bowl, just use a touch more oil and cook the chickpeas until crispy.
Pretzels + Hummus with Hemp Seeds
Time: Less than 5 minutes
This year I discovered these super cute (and delicious!) pretzel + hummus kits that opened me up to this tasty combo. The downside? The exorbitant cost for a teeny tiny container with way too few pretzels and waaay too much hummus. Make the combo at home and add 1-2 tablespoon of hemp hearts to your hummus for a boost of healthy fats and protein.
Substitutions: Swap out pretzels for your favourite veggies (broccoli florets are my recommendation) for a lighter snack.
More Plant-Based Packed Lunch Ideas
This post is sponsored by Silk. We love Silk for providing a delicious variety of non-dairy plant milks and their commitment to plant-based lifestyles!
Sign up for Silk's Newsletter. Looking for Silk in your area? Use this store locator!
#DoPlants