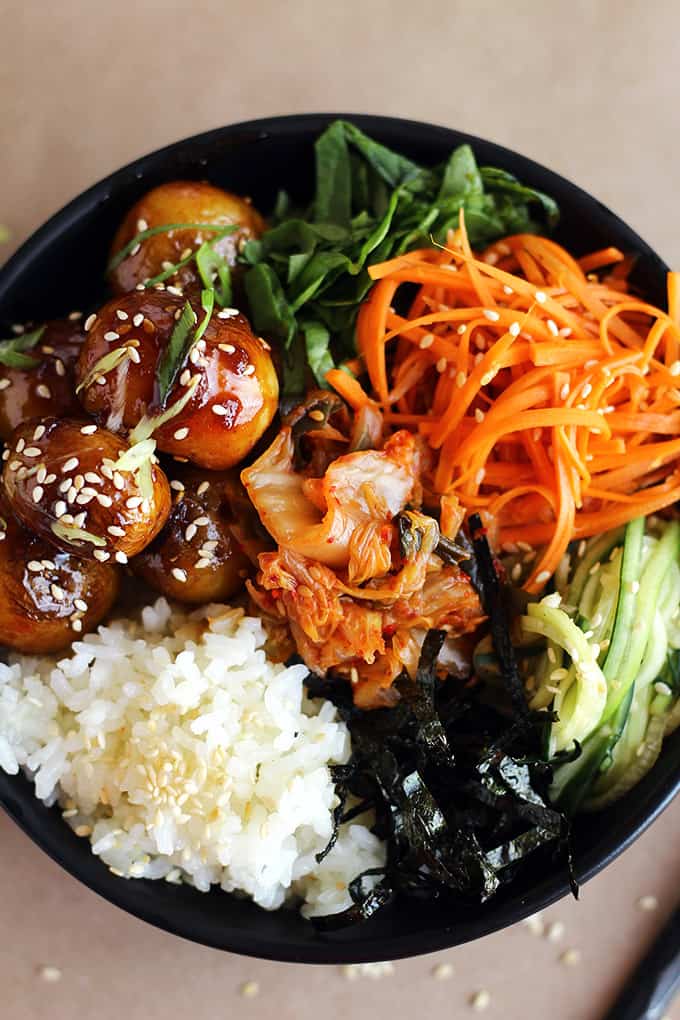 Do you ever find yourself in a food rut? This used to happen to me a lot, (and let's face it, will probably happen many more times.) When I'm feeling tired and uninspired my "non-blog food" can quickly turn into T.L.T. after T.L.T. after T.L.T. (for anyone not aware, those are (T)empeh bacon, (L)ettuce, and (T)omato sandwiches, and lot's of 'em.) But now, I'm so busy with recipes for the blog and recipes for clients that I don't have the time to fall into a rut. I'm trying new-to-me foods (like kimchi! Why have I waited so long??), ingredients I've always overlooked (aquafaba), and new-to-me dishes (hello, chilaquiles!!)
And then there's this bowl... Oh my goodness, you can say goodbye to your food rut, and hello to my new favourite potato recipe, right now.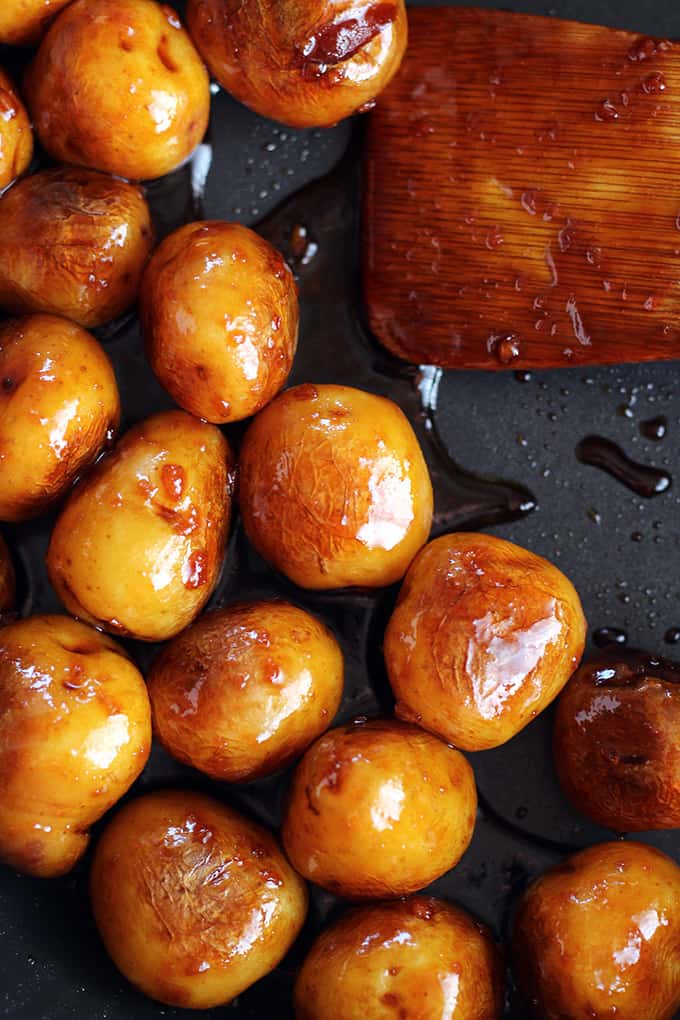 Al gamja jorim (a Korean soy sauce braised potato side dish) is the star of this recipe. In order to make this a main course I turned this side dish into the focal point of a Korean bibimbap inspired bowl.
These potatoes are quite simply awesome. Soy sauce braised potatoes have swooped into my life and become one of my favourite ways to prepare potatoes, ever. They are so easy, and so flavourful. Whole Creamer potatoes are braised in a sweet and salty mixture of garlic, water, soy sauce, agave, rice wine vinegar, and sesame oil, reduced to a rich, sticky sauce.
Turns out, al gamja jorim is an ideal "make ahead" dish, so I stuck with that theme and everything in this bowl can be prepared ahead of time. Yay!
This bowl begins with a bed of rice, topped with the rich, sweet and savoury Creamer potatoes, sesame carrots, tangy cucumbers, kimchi, julienned spinach, nori, and plenty of green onion and toasted sesame seeds.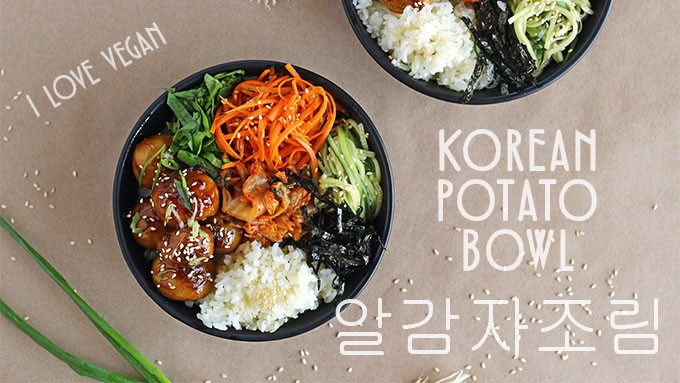 After the potatoes, it's all about the toppings. I'm in love with these sesame carrots, they're crisp and crunchy, rich with toasted sesame-soy sauce flavour and a hint of sweetness. The tangy cucumbers give a light "pickled" flavor with rice wine vinegar, agave, lots of green onion, minced garlic and a touch of soy sauce. I used a mandolin for the carrots and the cucumbers, which made the prep for those two elements insanely easy. (Seriously, if you love to make rice rolls like I do, you need a good mandolin yesterday.) After that I suggest adding some store-bought kimchi, fresh baby spinach, bean sprouts, and strips of nori. These are all little to no preparation, easy additions to your bowl.
As usual, feel free to customize this recipe to your liking! If you're looking for inspiration and not familiar with bibimbap, google it for some seriously amazing topping ideas.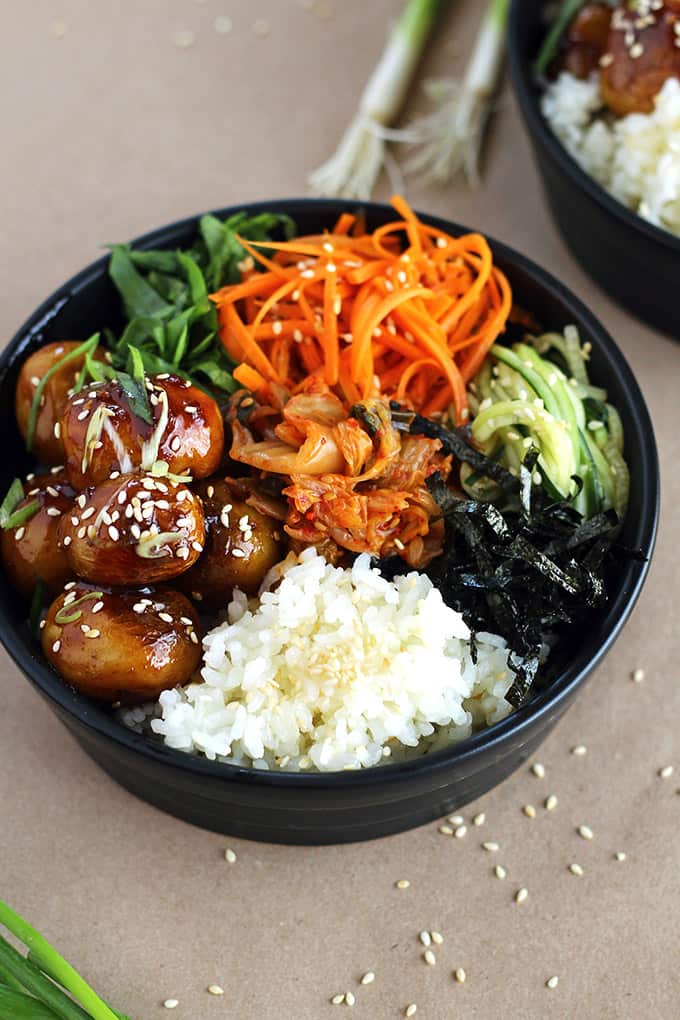 This post is sponsored by The Little Potato Company. We love them for their commitment to simple, healthy whole foods like their delicious Creamer potatoes. Thanks for supporting the brands that support I Love Vegan! Learn more about why we love Little Potatoes SO much at www.littlepotatoes.com
Print
Korean Potato Bowl (Al Gamja Jorim)
Author:

Prep Time:

20 minutes

Cook Time:

40 minutes

Total Time:

60 minutes

Yield:

4

servings

1

x

Category:

Main course

Cuisine:

Vegan
---
Description
Rich, sweet and savoury Korean style potatoes with rice, sesame carrots, tangy cucumbers, nori, spinach, and kimchi.
---
Al Gamja Jorim
1 tbsp

oil

2

cloves garlic, minced

2 cups

water

2 tbsp

soy sauce

2 tbsp

raw agave nectar (or corn syrup)

½ tbsp

rice wine vinegar

1 tsp

sriracha

1 tsp

sesame oil
toasted sesame seeds, for garnish
chopped green onion, for garnish
Sesame carrots
1

large carrot, julienned

½ tbsp

soy sauce

½ tsp

sesame oil

½ tsp

agave

2 tsp

toasted sesame seeds
Tangy Cucumbers
⅔

cucumber, cut in half and julienned

1 tbsp

rice wine vinegar

1

clove garlic, minced

1

green onion, thinly sliced

2 tsp

soy sauce

1 tsp

agave

1 tsp

toasted sesame seeds
Toppings
Rice, cooked
Vegan kimchi
Green onion, thinly sliced
Toasted sesame seeds
Spinach, julienned
Nori, cut into strips
Bean sprouts, (not shown - optional)
---
Instructions
Al Gamja Jorim
In a skillet, heat oil over medium heat. Add potatoes, cover and cook for 15 minutes, jostling the pan/stirring the potatoes often.
Add the garlic and stir, cooking for 1 minute.
Add the water, soy sauce, agave, and sriracha. Turn up to a gentle simmer, cover, and cook until the potatoes are wrinkly and tender throughout and the sauce is nearly thick (Note: If the potatoes are cooked but the sauce isn't reduced enough, uncover and continue to simmer. If the sauce has thickened up but the potatoes aren't cooked, rehydrate the sauce with ½ cup water and continue to cook, covered.)
Add the sesame oil, stir, and remove from heat. Toss with toasted sesame seeds. Serve over rice with your choice of toppings.
Sesame carrots
Combine all ingredients and refrigerate until ready to use.
Tangy cucumbers
Combine all ingredients and refrigerate until ready to use.
Assembling the bowl
All ingredients (al gamja jorim, rice, sesame carrots, and tangy cucumbers) can be made ahead of time and assembled into a bowl when you're ready to eat.
Start with a bed of hot rice. Top with warm potatoes and your choice of toppings (fresh julienned spinach, sesame carrots, tangy cucumbers, kimchi, nori, bean sprouts, green onion, and toasted sesame seeds.) Enjoy!
---