Back in November, I shared a recipe for Kare Kare Toasted Peanut Tofu & Vegetables, featuring Pulo Philippine Cuisine's cooking sauces. In that post, I highlighted Pulo's Kare Kare Toasted Peanut cooking sauce, and briefly mentioned their Coconut Adobo cooking sauce. I also promised to focus on their delicious marinades at a later date, which happens to be right now!
Pulo's marinades include Mango Chili, Pineapple Tamarind, and Lemongrass Atsuete. Today's recipe features the Lemongrass Atsuete marinade, inspired by Cebu Island.
There are dozens of ways to use Pulo's marinades, but the first thing that came to mind was a veggie loaded wrap with crispy marinated tofu and some sort of avocado dressing.
In the end, I settled on these Marinated Tofu Naan Wraps with Avocado Lime Slaw. Think flavourful marinated tofu, crispy crunchy slaw in a creamy, garlicky avocado dressing complete with a zesty kick of lime, all wrapped up in warm naan bread.
Is this traditional Philippine cuisine? Well, no. Is it still ridiculously delicious? YES!! That's just one of the many nice things about Pulo's sauces and marinades, you can use them for making traditional Filipino food, or you can get a little crazy, put your fusion chef hat on, and just go nuts!
Here's exactly what you should expect if you make this recipe:
Extra-firm tofu, marinated in Pulo's flavourful Lemongrass Atsuete marinade and cooked to caramelized perfection.
Crunchy carrot and cabbage slaw in a delicious creamy avocado dressing with plenty of garlic, a kick of lime, green onion, and a good handful of spinach for some extra green goodness.
All the toppings. I decided on thin-sliced red bell pepper, jalapeño rounds, green onion, lime juice, and just a touch of cilantro.
Top it all off with an extra drizzle of creamy green avocado sauce, and wrap it all up in some warm pillow-y soft naan bread.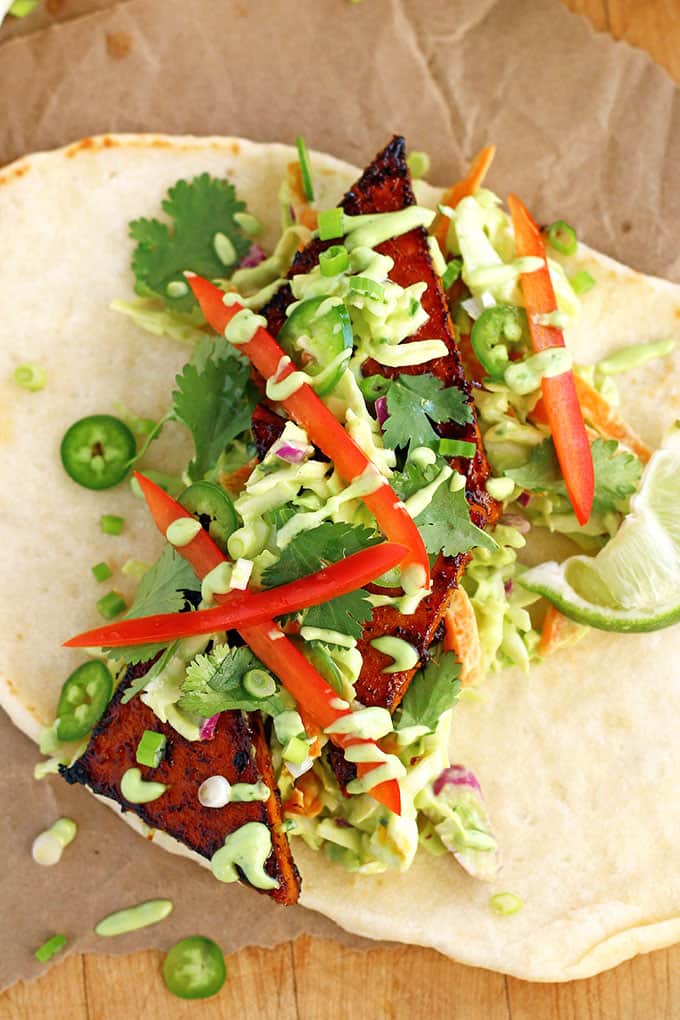 This fresh n' crunchy + healthy wrap is all about the sauces. Pulo's amazing marinades easily soak right into extra-firm tofu, and when cooked, thicken and caramelize to crisp savoury-sweet perfection. The tofu alone is super versatile and makes for some awesome sandwiches, wraps, and burgers. It's also great in stir-fries, served on a bed of rice, or as a flavourful, protein packed salad topping. And the dressing? Well, it's damn good too, and multi-tasks as a decadent dressing for salads or as a spread for sandwiches, burgers, wraps, and pretty much anything you could want to put it on. (Seriously, falafel, burritos, tacos, ugh, SO many things!!)
In the sad event that you can't get your hands on Pulo products in your neck of the woods, (it's currently only available in Canada), you can still make something similar using one of my other tofu recipes like the one from my Chipotle Lemongrass Tofu Burger recipe, or something simpler like my Baked Sriracha & Soy Sauce Tofu. Easy peasy, and still totally delicious and satisfying. Enjoy!
This post is sponsored by Pulo Philippine Cuisine. We love them for their easy to prepare and 100% vegan cooking sauces and marinades. Thanks for supporting the brands that support I Love Vegan! Learn more about why we love Pulo Philippine Cuisine SO much at www.pulocuisine.com.
Print
Marinated Tofu & Avocado-Lime Slaw Wraps
Author:

Prep Time:

4 hours

Cook Time:

25 minutes

Total Time:

4 hours 25 minutes

Yield:

3

1

x

Category:

Main Course

Cuisine:

Vegan
---
Description
Flavourful marinated tofu, crispy crunchy slaw in a creamy, garlicky avocado dressing complete with a zesty kick of lime, all wrapped up in warm naan bread. Makes 3 large wraps.
---
Lemongrass Atsuete Marinated Tofu
½

bottle Pulo's Lemongrass Atsuete Marinade

2 tbsp

light soy sauce

1

block extra-firm tofu, cut into thin ¼" triangle steaks
Creamy Avocado Lime Dressing
⅓ cup

vegan mayo

½

large ripe avocado
juice of

½

lime

½

small clove garlic

2

stalks green onion

⅓ cup

water

¼ cup

spinach, loosely packed
salt, to taste
black pepper, to taste
Avocado Lime Slaw
2 cups

bagged coleslaw

½

carrot, peeled and coarsely grated
approx. 3 tablespoon of Avocado-Lime sauce
juice of

½

lime
pinch salt, to taste
To Serve
3

medium-large pieces naan, warmed
cilantro (optional)
green onion, chopped (optional)
red bell pepper, thin sliced (optional)
jalapeño, thin sliced (optional)
---
Instructions
Marinated Tofu
Cut tofu into ¼" thick slices. They can be cut into rectangles or triangles, just make sure they are a reasonably large size.
Combine ½ a bottle of Pulo's Lemongrass Atsuete marinade with 2 tablespoon light soy sauce. Pour ⅓ of the marinade into the bottom of a shallow dish, layer the tofu into the container and cover with the rest of the marinade. Marinate in fridge for at least 4 hours or overnight.
Preheat ½ tablespoon of neutral vegetable oil (olive, canola, etc.) in a large non-stick skillet, over medium high heat. Dab off most of the marinade (to prevent burning) and pan-fry in oil until browned and crisp. Flip, and brown the other side.
For extra flavourful tofu (recommended): Toss the tofu back into the leftover marinade and then transfer it back into the pan, toss gently and cook until the tofu is coated in a thick glaze. Set aside.
Creamy Avocado Lime Dressing
Combine all ingredients in a blender and blend until smooth. Taste and adjust salt, pepper, and lime juice to suit your preference.
Avocado Lime Slaw
Mix slaw and coarsley grated carrots with 3 tablespoon of dressing, lime juice, and a pinch of salt.
Assembling the wraps
Warm naan in microwave for 15-30 seconds, so it's just warm and easy to fold. Layer about ⅓ of the slaw down the center of a piece of naan, top with ⅓ of the marinated tofu, top with a drizzle of dressing, add any extra toppings you like (cilantro, green onion, red bell pepper, or sliced jalapeño.) Fold in both sides of the naan and secure with a toothpick if necessary. Enjoy!
---