Summer is finally here and wow, does it ever feel good! I'm taking food photos well after 3pm and there's daylight until almost 10pm. Summer is Southern Alberta is such a treat. It's easy to miss my home province of British Columbia and all the wonderful outdoor activities that come with living in the Kootenays, but right now I'm thankful to be in the prairies. While I love the mountains, I don't love the early evening shadows they bring. It feels nice to be content right where I am for once.
It's early in the summer season so right now I'm focused on everything there is to love about June. But summer sometimes feels too hot, too dry (air conditioning, I'm looking at you!), and too sweaty. Summer can wreak havoc on your skin if you're not careful so be sure to stay hydrated and to keep your skin protected from UV rays!
Today I want to share some of my favourite summer products from Ayushi, and because lemonade is the quintessential summer drink, a recipe for perfect summertime lemonade. Let's get to it!
I've done plenty of gushing about how much I love Ayushi. I've been using their products exclusively for my skin for over 6 months now so I feel confident recommending them. I've had a number of readers let me know that they tried some of their products and loved them too! I'm so happy to be able to promote such an awesome company.
Here's a list of Ayushi products I've tried and loved so far:
For summer I picked out 3 new-to-me products to try: Organic Intense Anti-Wrinkle Lotion, Lemon Blossom Organic Face Wash, and Summer Herbal Shampoo. I was impressed with every single one! I usually prefer lighter scents in the summer and heavier scents in the winter so I really wanted to sample some lighter products and Prasad friom Ayushi recommended the Summer Herbal Shampoo.
The Summer Herbal Shampoo contains coconut, Bermuda grass, and wheat protein. The scent is lovely and light and it leaves my hair so soft!
The Lemon Blossom Organic Face Wash is my new favourite face wash. It's a lighter, milder scent than the Rose Garden Face Wash (which is what I used throughout the end of winter and through Spring) The scent is clean and fresh. It does a great job of removing makeup, dirt and oil without stripping my skin.
Lastly, the Organic Intensive Anti-Wrinkle Lotion. I had high hopes for this one because of how much I love Ayushi's Organic Facial Glow Lotion and I was not let down! It's so moisturizing, nice and light, and has a subtler scent than the more powdery Facial Glow Lotion. It's full of hydrating ingredients like apricot oil, hazelnut oil, avocado oil, aloe vera, sesame wax and geranium oil. My skin feels supple and looks nice and glowy!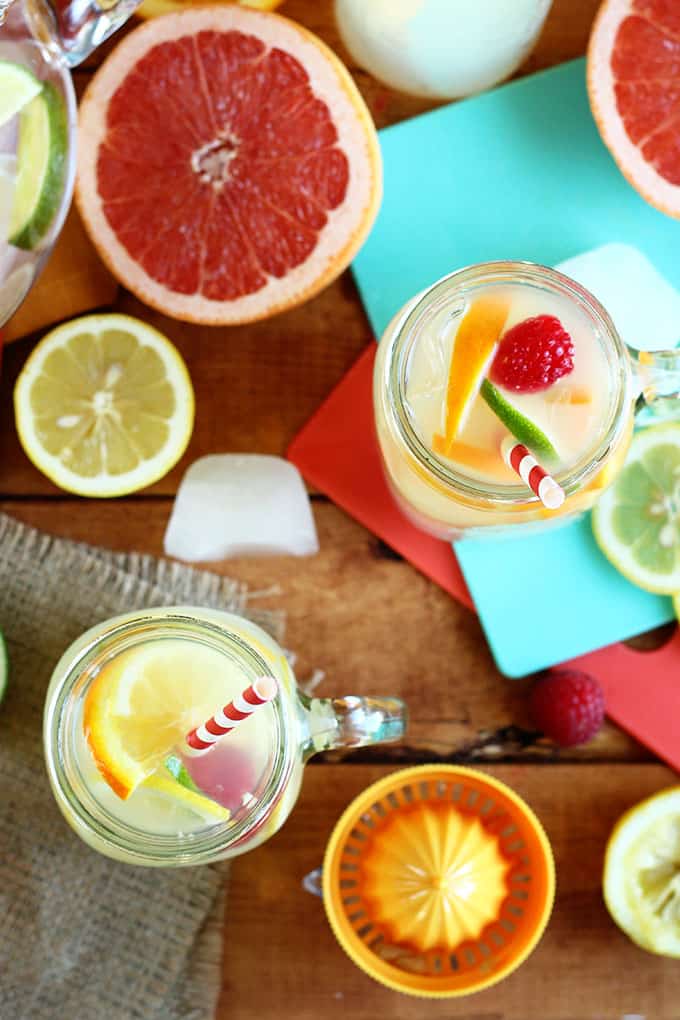 Every single one of Ayushi's products is 100% cruelty-free and vegan, organic, non-GMO, and free of parabens and phthalates.
I hope you're enjoying your summer so far! Make sure to keep hydrated and protect your skin! And of course, make sure to enjoy some perfect summertime lemonade too!
Print
Perfect Summertime Lemonade
Author:

Prep Time:

10 minutes

Total Time:

10 minutes

Yield:

4

servings

1

x

Category:

Drinks

Cuisine:

Vegan
---
Description
Cool down and get hydrated with the perfect glass of lemonade!
---
½ cup

lemon juice

⅓

-

½

cup cane sugar (or your favourite sweetener: agave, maple syrup and coconut sugar are good options)

4 cups

water
Optional: washed citrus fruit slices (lemon, lime, orange, grapefruit)
---
Instructions
Combine the lemon juice, sugar, and water. Shake or stir vigorously and serve!
---
---

This post is sponsored by Ayushi. We love this company for its lovely cruelty-free vegan body care products made with high quality organic ingredients and no GMO's, artificial dyes or fragrances. Use code veganlove2015 to receive 20% off of your 1st order. Thank you for supporting the brands that support I Love Vegan!