Sometimes I have a recipe idea that floats around my head for what feels like forever before it finally ends up on the blog. This is one of those recipes. Duchess potatoes were a classic we made back when we were A.) vegetarian but not vegan, and B.) in cook's training back in BC. Duchess potatoes are like mashed potatoes' fancier, snobbish older sister.  Except they have good reason for it, because they're really seriously delicious.
Typically, duchess potatoes are little piped mountains of mashed potatoes made with egg (to stabilize them), brushed with melted butter and baked until crispy and golden brown. This delicious vegan version is every bit as golden-brown, crispy, savoury and amazingly tasty as their non-vegan counterparts.
These crispy mashed swirls get an extra kick of flavour from garlic and chives. I used cashew cream (soaked raw cashews + Silk Unsweetened Almondmilk) and a touch of cornstarch to make them fluffy yet stable. These potatoes hold their shape almost perfectly in the oven! They'll lose a bit of height during cooking so maker sure to pipe 'em nice and tall if you want proper "mountains".
All in all, this recipe is pretty foolproof. I do have a couple of tips though.
First, as much as I love the added nutrition and texture of leaving the skins in my mashed potatoes, this is not the time or the place for potato skins. They'll clog up your piping tip and make the piping part an absolute nightmare.
Second, use a very large star tip (cake decorating tips should work well) if you have one.
Third, if you don't want to bother with piping these little guys, you can just cut off the end of a large ziploc bag and use that or simply dollop mountains of mashed potatoes on a baking sheet and rough up the tops with a fork. The more little nooks and crannies you can get out of your piping tip or fork, the crispier and more delicious your potatoes will be!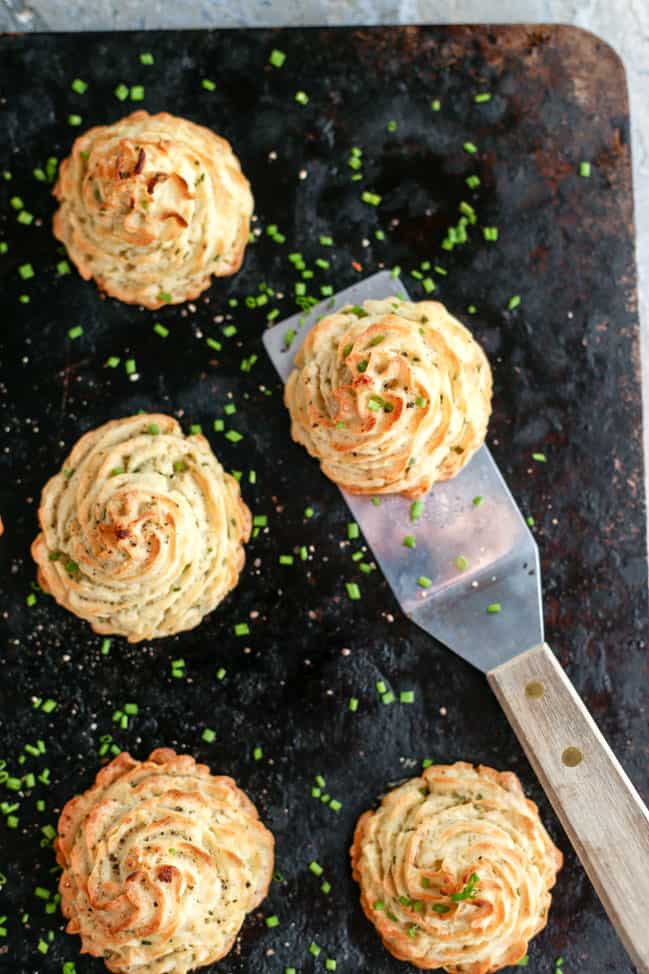 I wanted to keep this recipe as simple as possible so I made the duchess potatoes all by themselves. I think they'd be completely out-of-this-world delicious with some mushroom gravy. They'd be perfect for Thanksgiving or Christmas dinner!
This post is sponsored by Silk. All text and opinions are my own.
We love Silk for their amazing dairy-free plant milks and their commitment to a plant-based lifestyle.
Sign up for Silk's Newsletter. Looking for Silk in your area? Use this store locator! #DoPlants
Print
Vegan Chive & Garlic Duchess Potatoes
Yield:

12

potatoes

1

x

Category:

Side dish

Cuisine:

Vegan
---
Description
These crispy mashed mountains get an extra kick of flavour from garlic and chives.
---
4 ½ cups

chopped and peeled russet potatoes (1 ½ lbs or

685g

– approx. 2 large baking russets)

1 cup

raw cashews, soaked in HOT water for a minimum of 30 minutes

2 tsp

cornstarch

2 ½

 tbsp vegan butter, divided

1

clove garlic, minced

4 tbsp

 finely chopped fresh chives, divided

1 tsp

salt
Black pepper, to taste
---
Instructions
Preheat oven to 400F.
Heat a large pot of water over high heat. Add chopped russet potatoes and wait for the water to boil. Once water is boiling, cook potatoes for 6 minutes or until potatoes are fork tender. Once potatoes are finished cooking, drain and transfer them to a bowl.
While you wait for the potatoes to cook, combine soaked or boiled cashews with Silk Unsweetened Almond milk and 2 teaspoon cornstarch. Blend on high until smooth and creamy.
In a small microwave-safe bowl combine minced garlic and 1 ½ tablespoon vegan butter. Microwave for 1 minute or until vegan butter is melted and garlic is fragrant.
Add the creamed cashews, garlic butter, 2 tablespoon chives, salt and pepper to the potatoes. Mash using a potato ricer or a mashed potato immersion blender attachment. The mashed potatoes must be smooth and lump-free. Taste and adjust salt and pepper if necessary.
Spoon mashed potatoes into a piping bag with a large star tip. Pipe swirly mashed potato mountains onto a lightly greased baking sheet.
In microwave, melt 1 tablespoon vegan butter. Lightly brush (more like dabbing, be gentle!) melted vegan butter over the potatoes.
Bake for 40 minutes or until the tops are slightly browned and bottoms are crisp. If necessary, turn on broiler and broil for 1-5 minutes or until most of the piped edges are golden and crisp.
Garnish with cracked black pepper and 2 tablespoon chives.
---
Notes
Do not leave the skins on your potatoes - they will clog your piping tip.
If you can't get your potatoes mashed smooth OR you don't have a piping bag with a large tip: Spoon out tall dollops of mashed potatoes on a baking sheet, rough up the texture with a fork and brush them with melted butter for baking. Alternatively, you can cut the end off of a large Ziploc bag and use that as a piping bag - you should still rough up the texture with a fork before brushing them with melted butter and baking as usual.
Soaking cashews - You can soak raw cashews in cold water overnight, or if you're short of time just soak them in HOT or boiling water for a minimum of 5-10 minutes.