It's Day 9 of Vegan Mofo 2016 and I am officially flying by the seat of my pants. I'm sitting down to write this post, gyro in hand, kitchen in a state of chaos, literally moments after I finished photographing the completed dish (while competing against a sun that's sinking below the horizon earlier and earlier every day.)
Today I'm taking inspiration from Hot for Food's Recipe?! videos. I'm taking an inventory of what's in my fridge and trying to make something delicious. This is gonna be fun! And we need fun right now.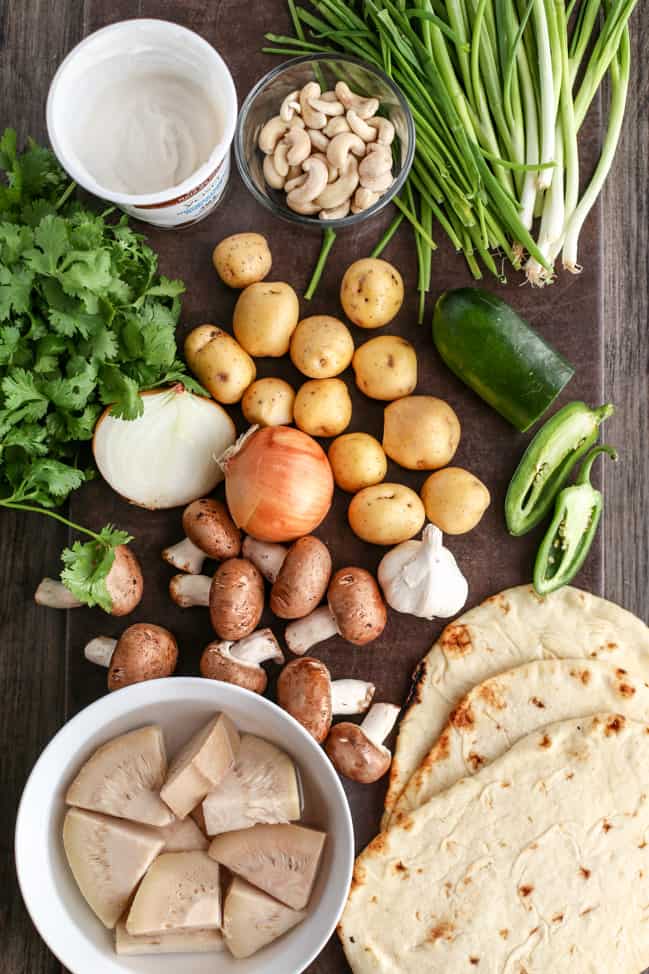 Here's what I picked out from my fridge, freezer, and pantry:
unsweetened coconut yogurt
frozen naan
a can of young jackfruit in brine
Creamer potatoes
Cremini mushrooms
⅓ zucchini
chives
green onion
cilantro
garlic
½ onion
jalapeno
½ cup soaked cashews
and a preheated oven from baking molasses cookies earlier
Immediately the coconut yogurt, soaked cashews, zucchini, garlic, and herbs had me thinking tzatziki. With the tzatziki idea locked down and possible Greek-inspired theme happening I decided to use the jackfruit, Cremini mushrooms, and naan bread to make gyros!
For the filling I sautéed thinly sliced onion, 3 cloves of minced garlic, and ½ jalapeno seasoned with paprika, chili powder, oregano, salt and pepper. Once the mixture was fragrant I added the Creminis (thinly-sliced) and the jackfruit (after removing the core and rinsing well). As the mixture cooked, I mashed the jackfruit with a fork. I wanted to develop and smoky "meaty" flavour so I also added a ½ teaspoon liquid smoke and ½ tablespoon molasses to help the mixture caramelize a little bit. I cooked the filling, stirring often, for a good 10 minutes. At this point I didn't find the texture quite right so I  decided to pop it in my preheated oven while I worked on the other components. I added ½ cup of water and transferred it to a baking sheet lined with parchment paper to cook for 30 minutes (stirring every 10 minutes.) At the end the filling was nicely browned and just moist enough.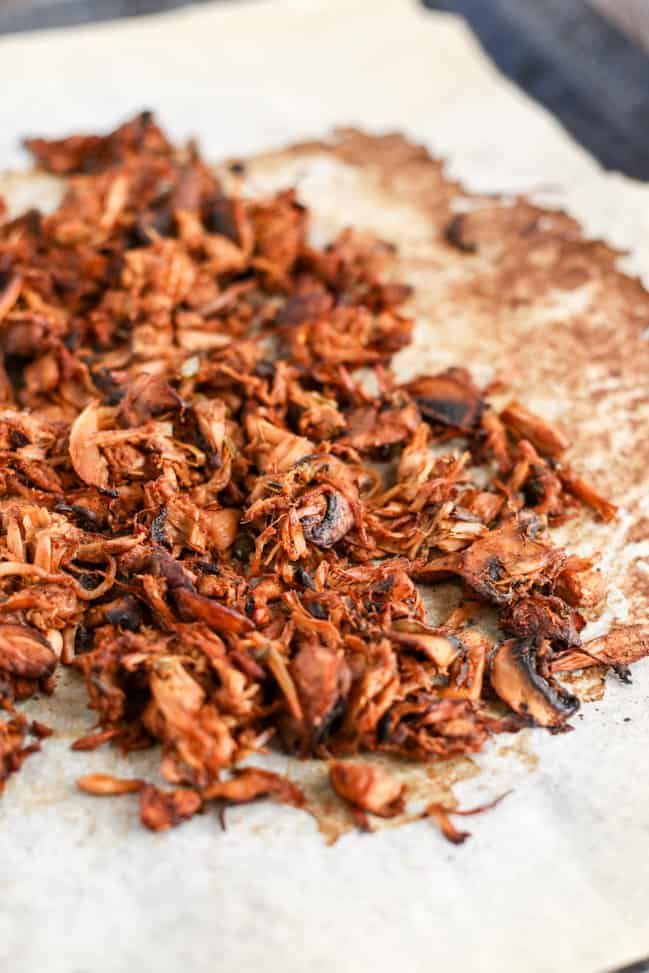 Now onto the tzatziki. I blended ½ cup coconut yogurt with the leftover cashews on high until perfectly smooth. I grated the zucchini, sprinkled it with a generous amount of salt and let it sit for about 5 minutes. Then I transferred the grated zucchini into a clean tea towel to ring out the excess water. I added the zucchini, 2 cloves of minced garlic, chives, green onion, and plenty of salt and pepper to the yogurt + cashews. I let this chill in the freezer while I started preparing the potatoes.
I parboiled the potatoes before frying them in a generous amount of olive oil, in the same pan I'd cooked the filling in. I seasoned them with salt and fried them till crispy. Originally I'd intended to serve the potatoes as a side but instead I ended up wrapping them up along with filling which ended up being exactly the right choice.
After the filling was done "slow roasting" in the oven, the tzatziki was chilled, and the potatoes were hot and crispy, I got ready to assemble. I warmed the naan in the oven and sliced some onion and tomato (which I'd previously missed while checking the kitchen for ingredients.) I arranged the sliced tomato, onion, jackfruit filling, and crispy potatoes down the center of a warm piece of naan and topped it with tzatziki. I folded the edges inwards, attempting and failing a cone shape, and wrapped it in parchment paper to keep everything secure.
This little experiment turned out to be a success! Everything came together beautifully. I've only experimented with jackfruit once previously but even so, the filling was flavourful and texture was spot on. If I were actually shopping to remake this recipe I'd add some crispy lettuce to the mix but that's about it!
Print
Vegan Jackfruit + Mushroom Gyros and Tzatziki
Author:

Prep Time:

25 minutes

Cook Time:

45 minutes

Total Time:

1 hours 10 minutes

Yield:

3

1

x

Category:

Sandwich, Main Course, Entrée

Cuisine:

Vegan
---
Description
A "meaty" filling of roasted jackfruit and mushrooms, crispy potatoes, and cool tzatziki all wrapped up in warm naan.
---
3

pieces naan or pita bread
sliced tomato, to taste
sliced onion, to taste
lettuce, to taste
Jackfruit and Mushroom Filling
1 tbsp

olive oil

½

onion, thinly sliced

3

cloves garlic, minced

½

jalapeño, seeds removed (optional)

1 tsp

paprika

½ tsp

chili powder

½ tsp

salt

½ tsp

black pepper
pinch oregano

1

can jackfruit in brine (drained, core removed, and rinsed)

8

Cremini mushrooms, thinly sliced

½ tsp

liquid smoke

½ tbsp

molasses
pinch of cinnamon

½ cup

water
Tzatziki
½ cup

unsweetened coconut yogurt

½ cup

soaked cashews

⅓

zucchini, grated, generously salted and drained

2

cloves garlic, minced

2 tbsp

chives, chopped

2 tbsp

green onion, chopped
black pepper, to taste
salt, to taste
Crispy potatoes
10

Creamer potatoes, quartered and parboiled
olive oil, for frying
salt and pepper, to taste
---
Instructions
Jackfruit and Mushroom Filling
Preheat oven to 350F.
In a large skillet, heat olive oil over medium-high heat. Add onion, garlic, jalapeño, paprika, chili powder, salt, pepper, and oregano. Cook for about 3 minutes, until onion is tender.
Add jackfruit and mushrooms. Cook, stirring often and shredding the jackfruit, until mushrooms are tender.
Add liquid smoke, molasses, and cinnamon. Stir well. Cook, stirring often, for 10 minutes. Taste and adjust seasoning if needed.
Stir in ½ cup water. Cook for another minute and transfer to a baking sheet lined with parchment paper. Bake for 30 minutes, stirring every 10 minutes, until browned but still slightly moist.
Tzatziki
Blend unsweetened coconut yogurt and soaked cashews until smooth.
Add drained, grated zucchini, minced garli, chives, green onion, black pepper and salt. Stir well. Chill for 20 minutes.
Taste and adjust seasoning.
Crispy potatoes
In the same skillet used to cook the filling, heat a generous amount of olive oil over medium-high heat. Fry potatoes until crispy and cooked through. Season with salt and pepper.
Assembly
Warm naan bread in oven. Arrange lettuce, tomato, and onion down center of naan. Top with ⅓ filling, ⅓ crispy potatoes, and a generous amount of tzatziki. Fold edges tightly inwards and wrap with parchment paper if necessary. Enjoy!
---