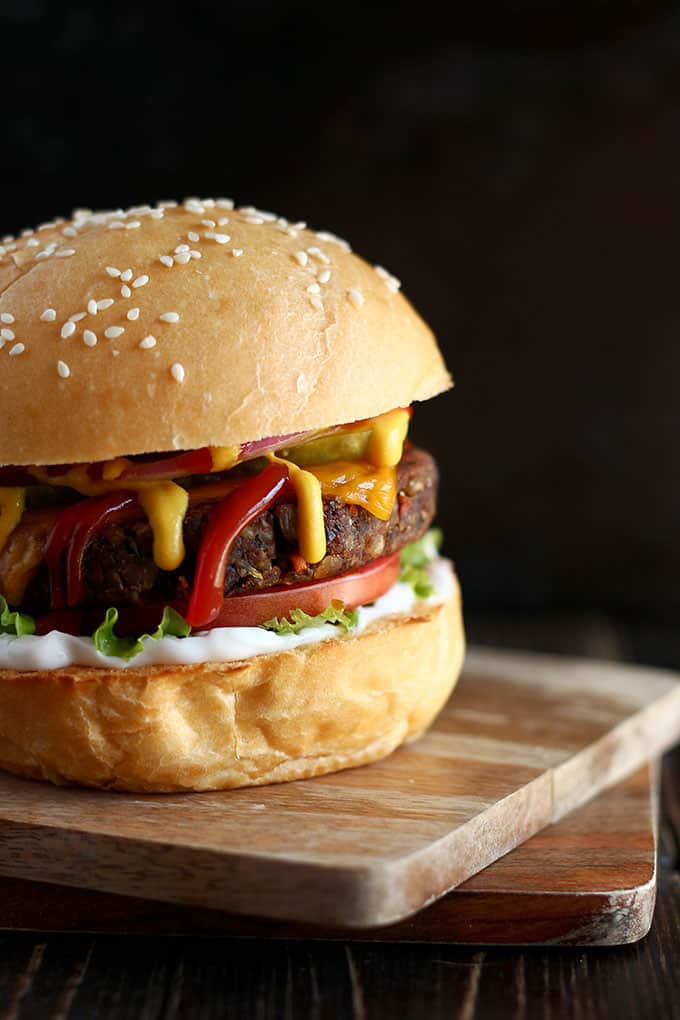 If there's one thing I love about veggie burgers, it would be everything. I love almost everything about veggie burgers. The good ones are delicious (obviously), hearty, messy, ridiculously satisfying and best served with a side of fries (skins on!) If there's a vegan veggie burger on the menu, I am ordering it, end. of. story.
If there's one thing I don't like about veggie burgers, it's the whole making them from scratch thing. Making veggie burgers isn't difficult, but there's a certain amount of effort required to make sure the ingredients bind together. Very finely chopping the vegetables is the first crucial step to making a veggie patty that won't fall apart but unfortunately, teeny-tiny chopping veggies is both time-consuming and boring.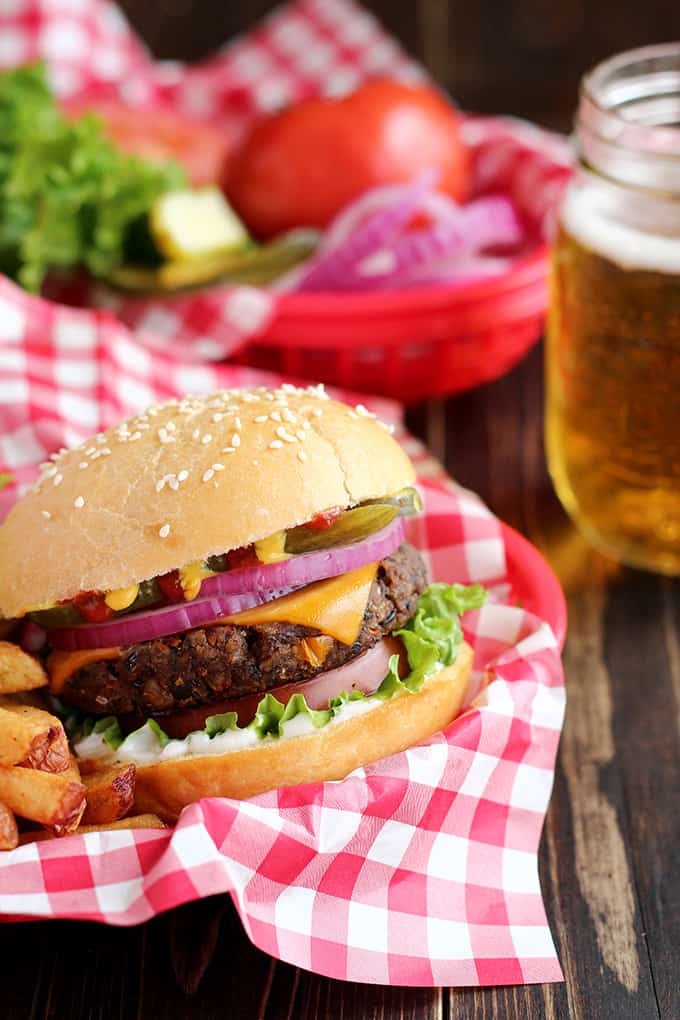 So that is where today's post sponsor, Braun, comes in to save the day! Braun is returning to North America with the New Kitchen Collection, a beautiful line of intuitive appliances: the Multiquick Hand Blender, Puremix Blender, and Brewsense Coffee Maker. I've had the opportunity to try out the line and I've been playing around and getting to know each appliance. In this post you'll see the Multiquick 7 Hand Blender, a seriously powerful and versatile immersion blender. I happen to be a huge fan of immersion blenders. They're convenient, portable, compact (a must for small kitchens), perfect for hot soups and sauces, and soo easy to clean. They also make a perfectly good smoothie which, let's be honest, is my main use for any blender. The Multiquick 7 does all of those things AND more because it also comes with a bunch of nifty attachments that make it a powerful food processor (yes, you read that right!) complete with a ton of different slicing/shredding/chopping blades. It also can be used as a powered whisk, as well as a masher. This thing is the ultimate multi-tasking tool. If I could go back a start my food blogging and recipe development career with just one appliance, this guy would be very high on the list.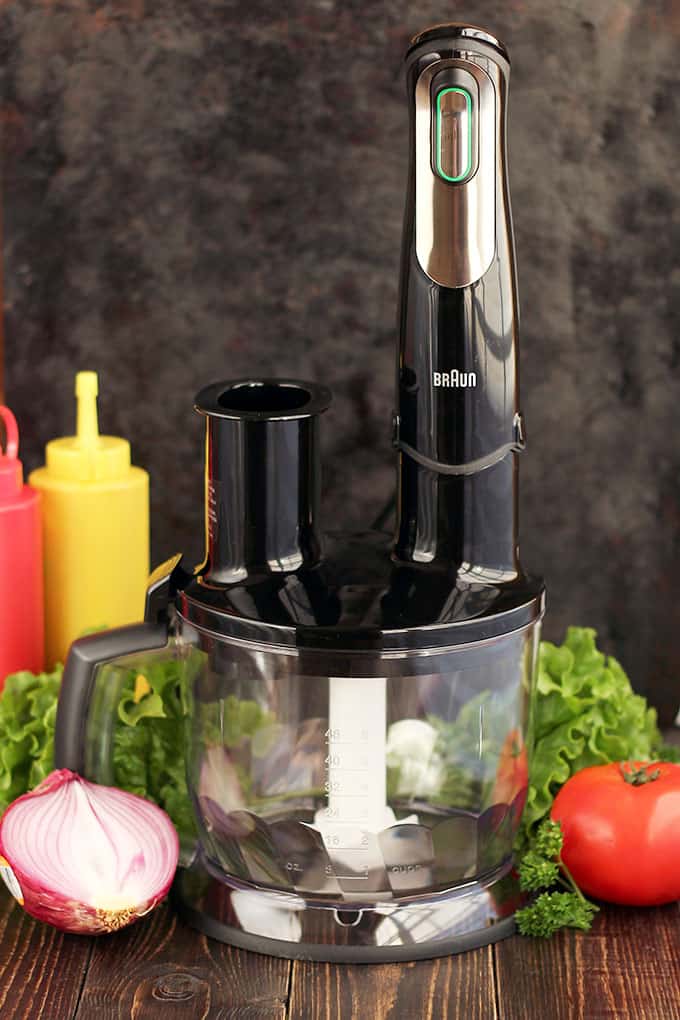 In this recipe, I'm focusing on the food processor attachment with the chopping blade to chop all the veggies for my burgers. There's lots of mushrooms, carrot, celery, red onion, and garlic, and I want them all chopped super fine and even. I'm also using it to evenly mash and break open my black beans without turning them into a mash. Easy and super lightning fast!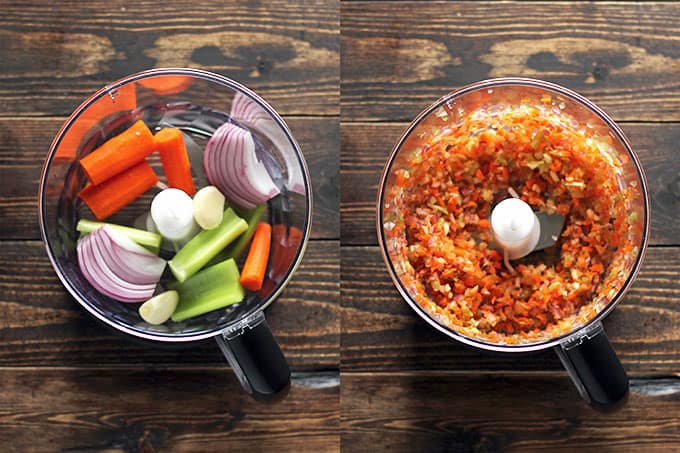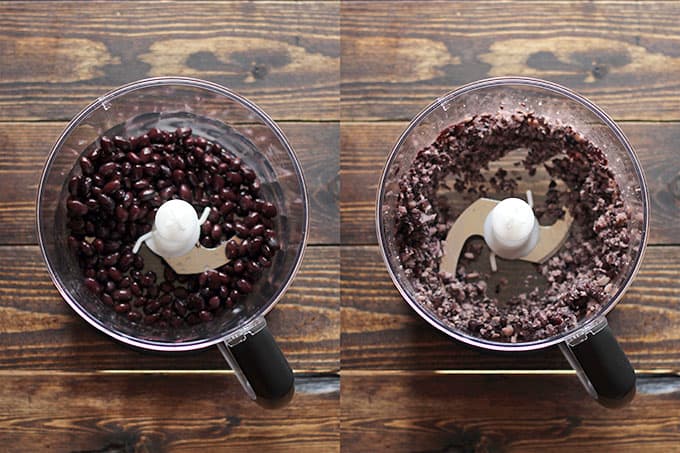 Back to these veggie burgers. These patties are made up of mushrooms, black beans, brown rice, bread crumbs, carrots, celery, onion and garlic. Nutritional yeast and soy sauce add a little of that salty burger-y umami flavour. The smashed beans and rice, and bread crumbs help to bind the ingredients and firm everything up, and the addition of ground chia seeds really helps to suck up extra moisture and keep these patties firm. I whizzed the chia seeds in the Puremix blender (which we'll talk more about on another day) using the "crush ice" setting which worked beautifully.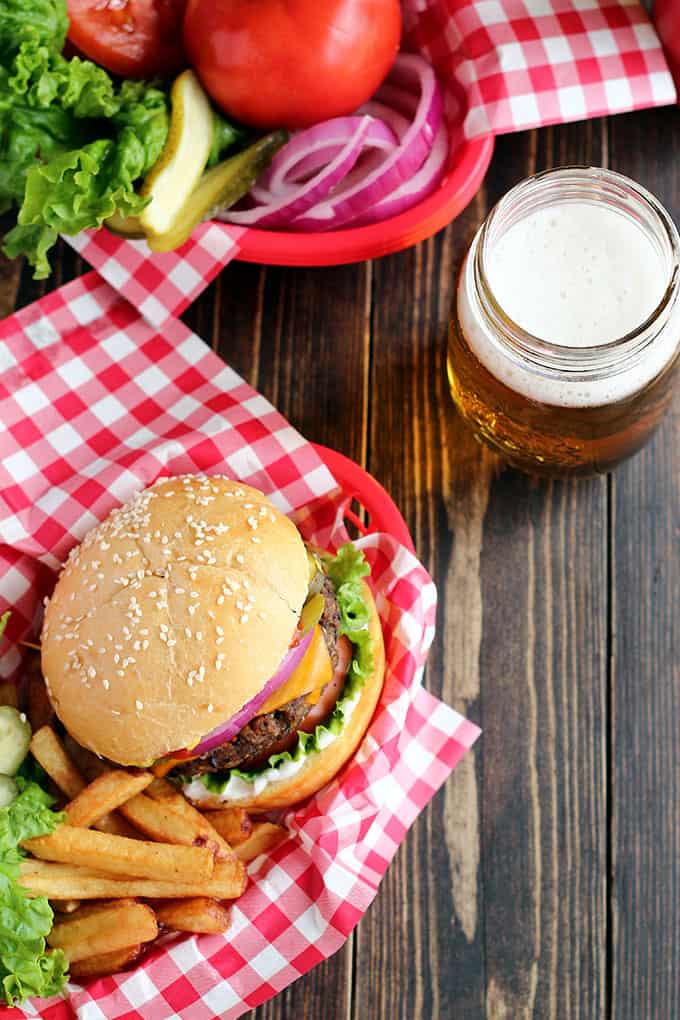 To bring these delightful patties from mere tastiness to full-blown veggie burger deliciousness I recommend you serve them with a healthy dose of vegan mayo, crisp green leaf lettuce, a slab of tomato, melted vegan cheese, red onion rings, sliced dill pickles, and a squiggle each of ketchup and mustard. Oh! And don't forget the fries! Enjoy!
This post is sponsored by Braun.
Visit the Braun website (CA/USA) to learn about their New Kitchen Collection or to check out the Multiquick 7 Hand Blender used in today's post. Come back later in the month for another recipe collaboration with Braun! Thank you for supporting the brands that support I Love Vegan.
Print
Vegan Mushroom & Black Bean Burgers
Author:

Prep Time:

1 hours 30 minutes

Cook Time:

15 minutes

Total Time:

1 hours 45 minutes

Yield:

8

1

x

Category:

Sandwich, Lunch and Dinner

Cuisine:

Vegan
---
Description
Classic vegan burgers made with a base of mushrooms, veggies, brown rice, black beans and bread crumbs. Perfect for your summer BBQ!
---
Mushroom & Black Bean Patties
1 cup

cooked brown rice

1 ⅓ cups

canned black beans, mashed

1 tbsp

olive oil (plus extra for frying)

6

-

8

-medium mushrooms (cremini/white button), finely chopped

1

stalk celery , finely chopped

1

small carrot, finely chopped

¼

red onion, finely chopped

2

cloves garlic, finely minced

½ teaspoon

salt

1 ½

-

2

cups bread crumbs

1 tbsp

ground chia seeds

2 tablespoons

nutritional yeast

2 ½ tablespoons

soy sauce
squeeze lemon juice
Burger Toppings
buns
vegan cheese slices
tomato, sliced
red onion, sliced
dill pickles, sliced
green leaf lettuce
condiments: vegan mayo, ketchup, mustard
---
Instructions
Mushroom & Black Bean Patties
In a large skillet, heat olive oil over medium-high heat and sauté the finely chopped mushrooms, celery, carrot, onion, and garlic until just tender. Sprinkle with salt and stir.
Add the black beans, brown rice, bread crumbs, ground chia seeds, nutritional yeast, and soy sauce, lemon juice and stir until the mixture gets very thick and difficult to mix. Refrigerate for at least 1 hour.
Portion the burger mixture into ⅓ cup (or slightly larger) patties (21/2" in diameter and ½" thick). You can now refrigerate, freeze, or cook the patties.
Heat a generous amount of oil over medium heat. Fry each patty for 3-5 minutes, flip, top with a slice of cheese (if using) and cover with a lid until the cheese melts. Warm the cut side of the buns while the patty finishes cooking.
Assembling the burgers
Spread the bottom bun with vegan mayo, top with lettuce, a slice of tomato, the burger patty, pickles, onion, ketchup, mustard, and the top bun. Enjoy!
---