Are you ready for a seriously awesome potato recipe that's versatile and perfect for any time of day?
These vegetable potato croquettes are delicious baked or fried. I tried them both ways and loved them equally! They're crispy on the outside, soft and potato-y on the inside, and full of veggies! These cakes are healthy enough for a nutritious savoury breakfast, or a simple side dish. They're great for a hot, savoury snack, and of course, their small size makes them ideal for little appetizers too!
Since these veggie croquettes are rather basic flavour-wise, you can really play around with them to make totally different results every time you make them! I enjoyed this basic veggie-filled recipe which complimented a variety of sauces from good ol' ketchup to vegan mayo-based sauces, and it was fantastic with my spicy-sweet peanut sauce too!
Next time I make these I'd love to play around with them a little more. I'd like to experiment with some different veggie combos, and try adding a hefty dose of curry powder. There's so many options for experimenting with this recipe! I've added a little note below if you want to play around and create your own flavour combinations.
Here are some flavour ideas I'm looking forward to playing around with:
Mushroom & Garlic - 1-2 cloves garlic + 2 cups chopped mushrooms.
Vegan Bacon, Dill and Cheddar- 1-3 tablespoon fresh chopped dill, ¼ cup finely chopped tempeh bacon, ¼ cup
Daiya cheddar-style shreds.
Broccoli & Nooch - 1 ¾ cup broccoli florets + 2-3 tablespoon nutritional yeast.
Vegetable Curry - 2-3 tablespoon mild yellow curry powder, ½ cup frozen peas, ½ cup chopped carrots, ½ chopped onion.
Thanksgiving recipe idea - Served with mushroom gravy and cranberry sauce for a Thanksgiving appetizer or side dish.
Sauces ideas: Chipotle, guacamole, spicy-sweet peanut sauce, and lemon-dill mayonnaise (½ cup vegan mayo, 2 tablespoon finely chopped fresh dill, ½ tablespoon lemon juice, pinch each of garlic powder, onion powder, salt, and pepper.)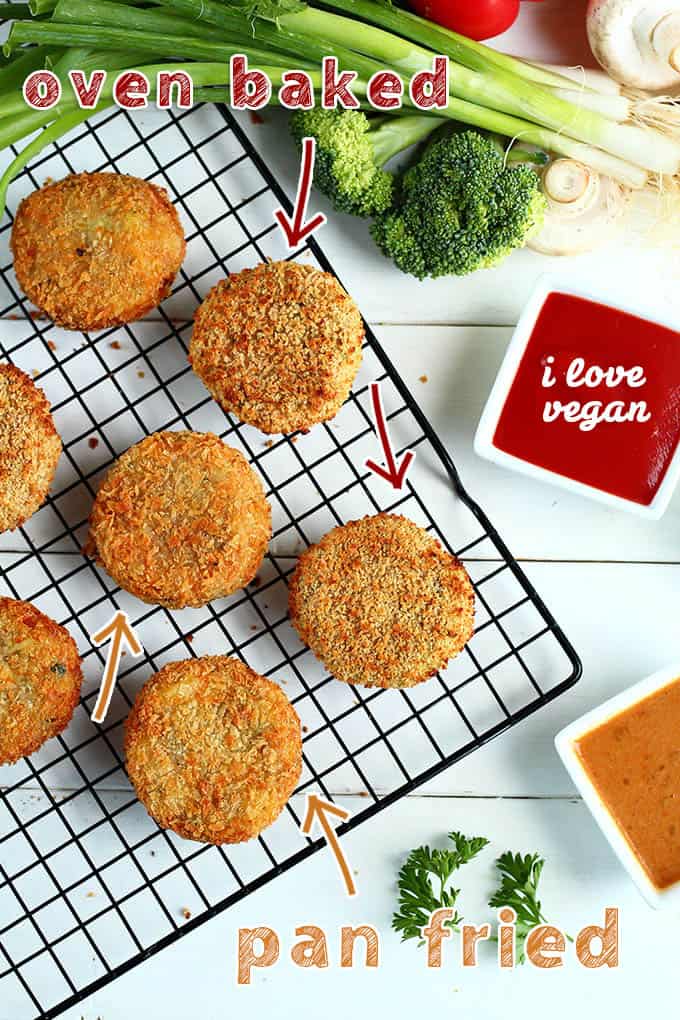 I also wanted to experiment with the recipe to see how well it freezes and reheats. I'm happy to report that this recipe works beautifully for freezing! You can either freeze the patties after pre-frying/baking or as mashed potato patties, before breading. I've loved these for hearty snacks so I plan to make a big batch of these to freeze for easy, hot fall snacking. Now I know exactly what to do with leftover mashed potatoes come Thanksgiving!
I'm using The Little Potato Company's Baby Boomer Creamer potatoes in this recipe. They're my top choice for mashing and roasting, and worked wonderfully in these croquettes. The Little Potato Company's Creamer potatoes are so easy to use, I didn't even bother to peel them for this recipe, they go straight from the bag into a pot of water on the stove! The skins are nutritious and hardly noticeable among the other veggies in these crispy savoury treats.
This post is sponsored by The Little Potato Company. We love them for their commitment to simple, healthy whole foods like their delicious Creamer potatoes. Thanks for supporting the brands that support I Love Vegan! Learn more about why we love Little Potatoes SO much at www.littlepotatoes.com
Print
Veggie Croquettes
Author:

Prep Time:

60 minutes

Cook Time:

25 minutes

Total Time:

1 hours 25 minutes

Yield:

14

-

18

croquettes

1

x

Category:

Appetizer, Side Dish, Snack

Cuisine:

Vegan
---
Description
These vegetable potato croquettes are delicious baked or fried. They're crispy on the outside, soft and potato-ey on the inside, and full of veggies!
---
Mashed Potatoes
One

1.5

lb bag The Little Potato Company's Baby Boomers

¼ cup

unsweetened plant milk (almond, soy, etc.)

2 tsp

vegan butter

¾ tsp

salt
Vegetables
1

-

2

cloves garlic, minced

1

carrot, peeled and grated

¼

red onion, finely chopped

2

stalks green onion, finely sliced

2

large mushrooms, finely chopped

⅓ cup

baby spinach (lightly packed), finely chopped

⅛ cup

broccoli florets, finely chopped

⅛ cup

red bell pepper, finely chopped

2

-

3

teaspoon vegetable oil
pinch salt
Breading
½ cup

flour

1 cup

unsweetened plant milk
pinch salt

2 tbsp

corn starch

1.5 cups

whole wheat or white panko bread crumbs
---
Instructions
Potatoes
Boil potatoes for approx. 18 minutes, until they feel tender when poked with a fork. Drain potatoes and mash with ¼ cup unsweetened plant milk, 2 teaspoon vegan butter, and ¾ teaspoon salt. Set aside.
Vegetables
Heat 2-3 teaspoon vegan butter over medium-high heat in a large skillet. Add garlic, onion, carrots, broccoli, bell pepper, and mushrooms. Cook for 2-3 minutes. Add spinach and green onion. Sauté until tender. Season with a pinch of salt (about ⅛-1/4 tsp).
Mash vegetables into potato mixture. Refrigerate mixture until cool enough to handle.
Forming and Breading Patties
Measure out approx. 2 tablespoon of potato mixture, roll it into a ball and flatten into a ¾" patty. Arrange patties on parchment paper. Makes 14-18 patties. Chill or freeze so that patties are firm before breading.
Gather 3 bowls or shallow dishes. Fill the first with ½ cup flour, the second with a well-blended mixture of unsweetened plant milk, cornstarch and salt, and the third with panko bread crumbs.
Dip each patty briefly into flour, followed by the cornstarch thickened milk, and then the bread crumbs. Firmly press the bread crumbs into the patties.
Frying or Baking the Croquettes
Frying: Heat ½" of oil over medium heat. Once oil is evenly hot, fry patties in batches of 1-5 (depending on size of oil vat), flipping after about 1-1 ½ minutes. Each patty should be golden-brown and fully heated within 2 ½-3 minutes.
Notes: Overheating will cause the potato filling to spill out. Make sure oil is hot enough to sufficiently brown the patties in 3 minutes or less or the filling may spill out.
Baking: Preheat oven to 450F. Line baking sheet with parchment paper. Baked breaded croquettes for 10 minutes. Flip and bake for another 5-10 minutes.
---
Notes
Customization: Feel free to play around with the types and amounts of vegetables used. You'll want a total volume of 1 ¾ - 2 cups of finely chopped veggies.Notes on Baking: The white panko breaded croquettes don't brown very well in the oven and end up looking a little pale and unattractive. If you want to bake your croquettes I recommend using whole wheat panko crumbs because they have a nice golden-brown colour when baked.