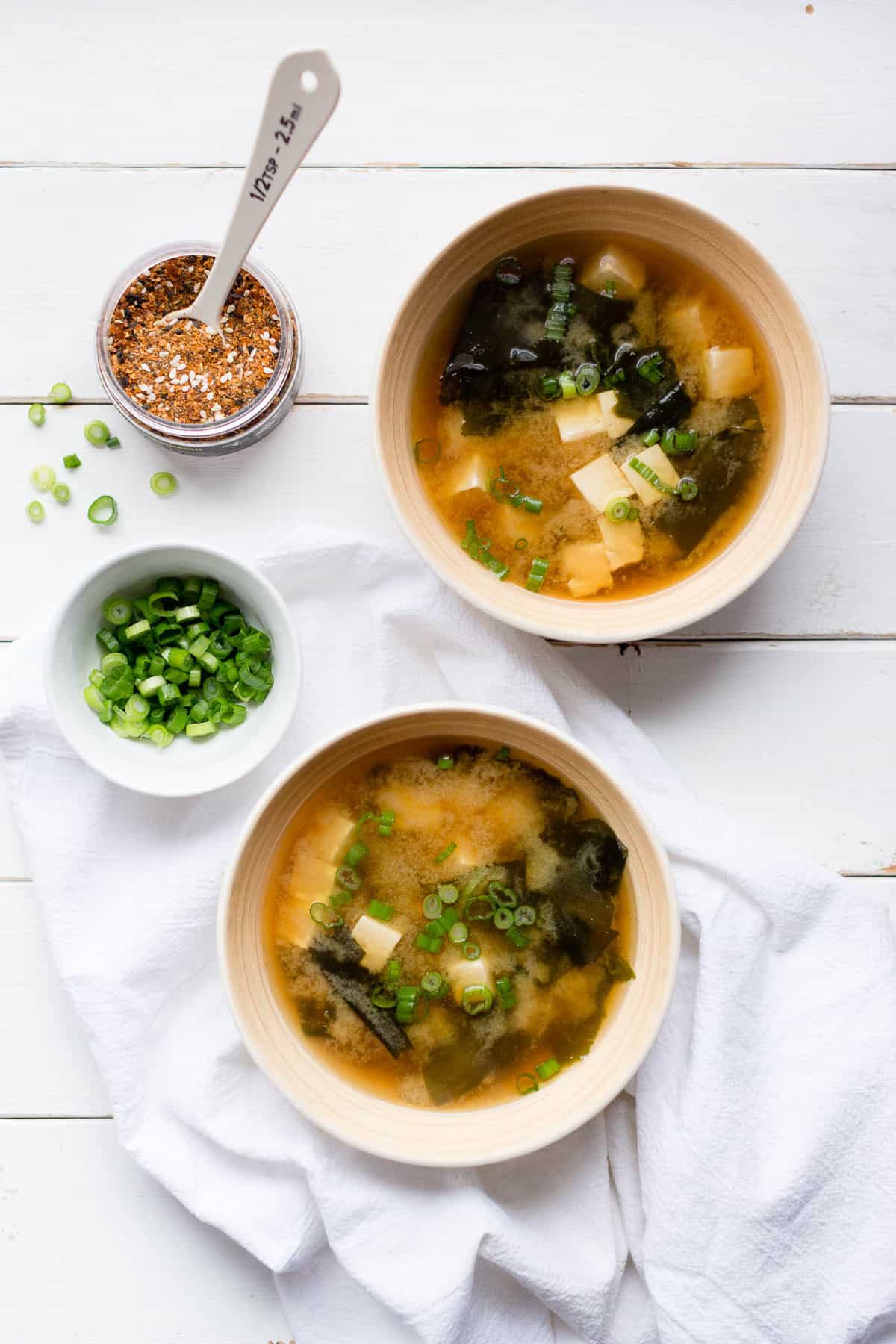 Making vegan miso soup is incredibly quick and easy. It's soothing, comforting and somehow manages to be both rich and light. It's a wonderful pick-me-up if you're feeling under the weather because it's easy on your system and simple to prepare.
This vegan miso soup is made with just a few ingredients: soy sauce broth, white miso, soft tofu, wakame, and green onion.
It's a simple recipe that requires very little fuss. Turn a light bowl of miso soup into something more substantial with add-ins and toppings. Sliced mushrooms (shiitake, king oyster, enoki), greens (bok choy and spinach), and noodles (rice noodles and ramen noodles) are just a few ingredients you can add to miso soup. (Pictured: shimchi togarashi)
None of the ingredients should be difficult to find. The ingredients that might be a little harder to find are shelf stable so you can pick them up from online retailers.
Now let's talk about the ingredients in vegan miso soup!
REPLACING DASHI STOCK
Miso soup is usually made with dashi stock, a rich fish broth. It's salty and full of umami flavour. Dashi stock is made by boiling dried fish (often bonito flakes) and kelp (like kombu).
Dashi stock is the only non-vegan ingredient we need to replace to make miso soup vegan. The simplest swap for dashi stock is soy sauce! Soy sauce won't add any fishy flavour, but it has umami and plenty of salt.
Alternatively, you can make a vegan broth with mushrooms and kombu (seaweed). It's a great base for vegan miso soup but it's more complicated than a simple soy sauce broth.
MISO
White miso is very mild. It's salty, a little sweet, and full of umami flavour. Miso is a fermented food rich in probiotics. White or shiro miso (which is actually a pale yellow colour) is made with soybeans and rice. Miso stays fresh in the fridge for a very very long time and is often extremely affordable.
Outside of Japanese cuisine and miso soup, white miso is a must-have flavour booster in vegan cooking. It's especially useful in traditionally dairy-based recipes. It's an all-in-1 ingredient to add saltiness, depth, and that touch of sweetness that's key for replicating the flavour of dairy. White miso will boost your vegan cheese sauces (for mac n' cheese, potatoes au gratin), creamy soups (cream of broccoli, leek & potato, etc.), gravies, pesto, and instant ramen.
My go-to brand for miso soup is Hanamaruki White Soybean Paste (keep an eye out for this, sometimes it'll be called soybean paste instead of miso!) It's one of just a few varieties available locally. It's $5.48 for 500g. You'll find miso in Asian grocers, and chain grocers' "International" aisles and "Natural Food" aisles. You might find it refrigerated or shelf stable. You'll also find miso online at Amazon, iHerb, Vitacost, and other online retailers.
TOFU
For miso soup you'll choose a softer, silky tofu. Choose tofu that has descriptors like traditional, soft, medium silken, or silken. If you have a few options to choose from, go with traditional.
WAKAME
Wakame is a deep green seaweed with a silky, chewy texture. Wakame is one of just a few plant-based sources of omega 3 fatty acids and it's rich in vitamins and minerals. Typically you'll find wakame dried, and you'll need to rehydrate it in water before adding it to soup. I buy a big ol' bag of wakame for $3.50. In a pinch I've also used nori in miso soup (no need to rehydrate, just toss it in at the end of cooking.)
TIPS FOR MAKING MISO SOUP
Miso is a thick paste, so it can be difficult to simply stir it into different dishes without lumps. There's an easy method you can use to evenly mix the miso. You'll need a small whisk and a mesh strainer that fits easily into the pot you're using. Measure the miso into the mesh strainer. Submerge the miso and strainer into the water and use the whisk it break it up and stir it into the broth without any chunks.
Since miso is a fermented food, it's best to avoid boiling or reheating miso soup after you've added the miso, to prevent destroying probiotics. (I try to avoid making too much but if I do have leftovers I will reheat it.)
If you use miso often, you might like to purchase a miso muddler (Amazon affiliate link) it's a handy little tool that looks like a tiny, round, double-sided whisk. It works as a measuring tool and a whisk. One side measures out 1 tablespoon and the other side measures 1 teaspoon. You stick the whisk end into the miso and twist for a perfect measurement.
MORE TOFU SOUP RECIPES
Looking for more tofu soup recipes? We've got your covered! Try our Tofu Noodle Soup, Easy Vegan Shōyu Ramen or our Creamy Red Coconut Curry Soup or upgrade your instant ramen game with our tips to help you Make (Vegan) Ramen Better.
Print
Easy Vegan Miso Soup
Author:

Prep Time:

10 minutes

Cook Time:

10 minutes

Total Time:

20 minutes

Yield:

2

servings

1

x

Category:

Lunch and dinner

Cuisine:

Vegan
---
Description
Quick and easy vegan miso soup using just 6 ingredients and 20 minutes.
---
5 cups

(

1250

ml) water

2 ½ tbsp

(37.5ml) soy sauce

300g

soft tofu, diced

3 tbsp

(

4.5g

) dry wakame

4 tbsp

(

65g

) shiro miso (white/light miso)

3 tbsp

(45ml) chopped green onion
---
Instructions
Hydrate dry wakame in a bowl of warm water.
Bring water to a boil over high heat.
Add tofu and soy sauce and cook for a few minutes.
Squeeze excess moisture from hydrated wakame and add it to the soup. Cook for 2 minutes.
Turn heat off and position a small strainer into the soup. Add the miso to the strainer and use a whisk to stir in the miso until all lumps are broken up.
Turn heat back on and cook until broth almost starts to simmer. Turn heat off.
Serve and top with chopped green onion.
---
This post contains an affiliate link. When you purchase a product using an affiliate link, I Love Vegan earns a small commission at no extra cost to you! Thank you for supporting us!