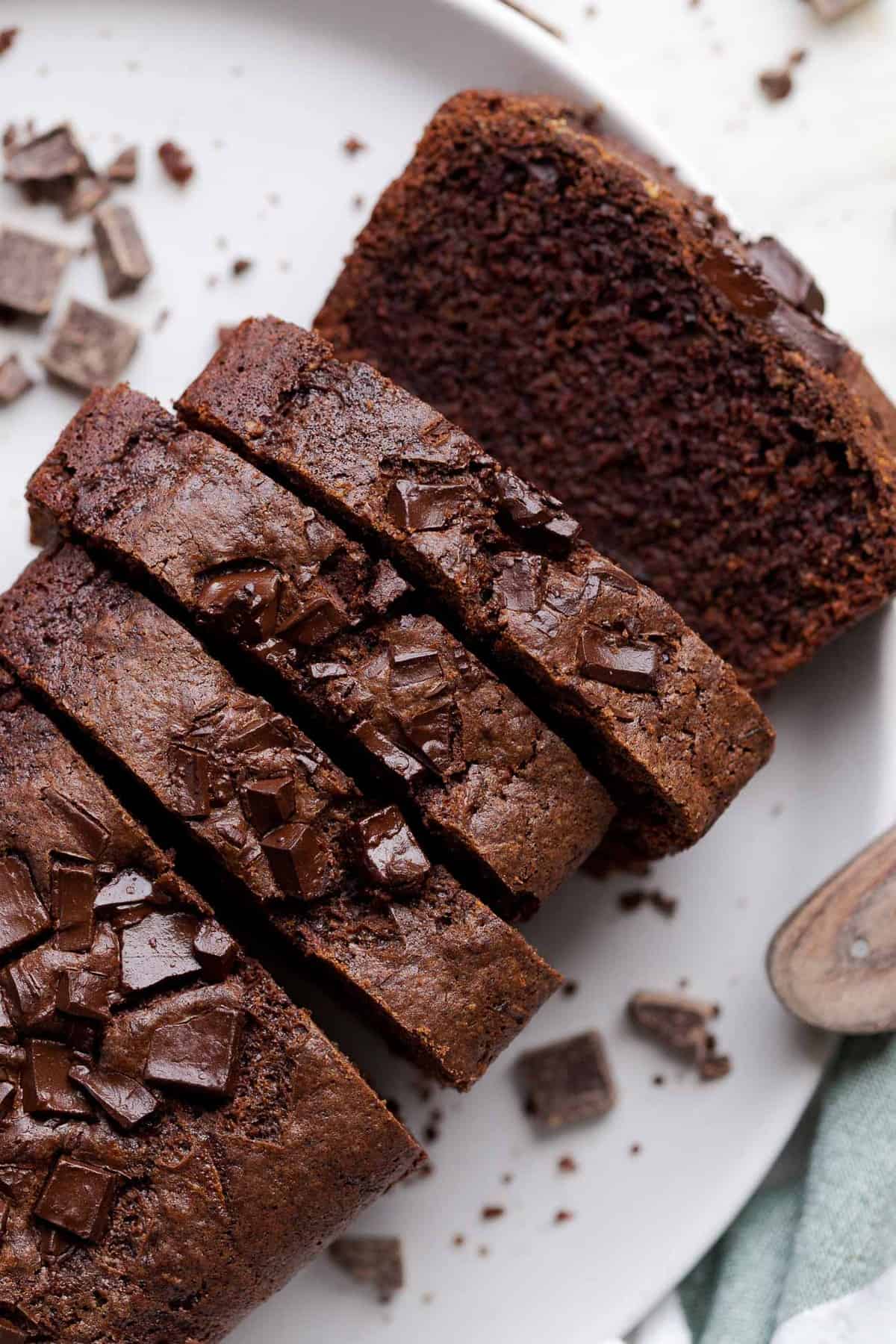 This vegan chocolate zucchini bread is sweet, rich, and decadent with a fine, moist crumb. Once it's baked, cooled, and given some time to settle in an air-right container, the "crust" is soft, delicate, and almost sticky - like a muffin top or a Starbucks loaf.
There is an entire zucchini hiding in this loaf, but upping your vegetable intake is not this recipe's purpose.
The zucchini's role? Moisture. (And using up zucchinis after you've already eaten them grilled, baked, roasted, sautéed, spiralized, and you can't bring yourself to eat anymore of them.) Zucchinis are cheap and plentiful in the summer. Where I live, it's an affordable vegetable year round. Making zucchini bread is the ideal way to make use of any of those monstrous, late-harvested zucchinis that aren't ideal for other cooking methods.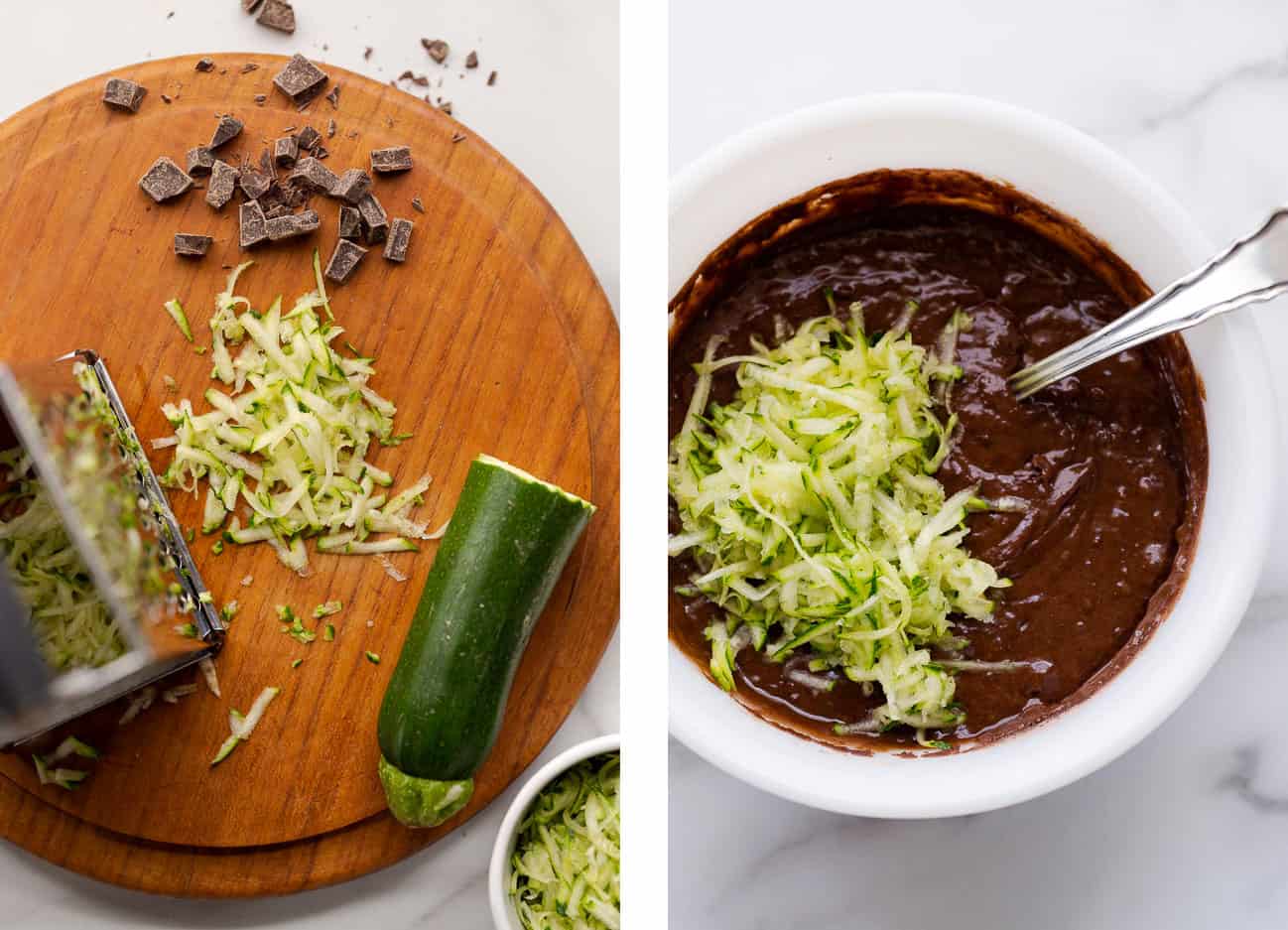 Vegan zucchini bread is incredibly easy to make. Preparation takes 15 minutes and then you're ready to pop it in the oven. It freezes beautifully so you can make extra and freeze a few loaves for later.
Best tips for making this vegan chocolate zucchini bread
Don't squeeze the liquid from the zucchini, that's the key to the bread's moisture! If your zucchini is very dry, give it a quick soak in water before shaking out any excess moisture using a strainer. (Don't squeeze it though, just shake out as much as you can.)
Use natural cocoa powder. You can not substitute Dutch-processed or alkalized cocoa in this recipe. (More on that below if you're interested ↓)
Once you've mixed up your batter, immediately transfer it to a loaf pan and put it in the oven to bake. Don't mix the wet ingredients into the dry until you've preheated your oven and prepared your loaf pan (and your toppings - if using). Once you've mixed the wet with the dry, baking soda's chemical reaction is immediate. You want that reaction to happen as the loaf bakes, not while it sits on your countertop!
"Natural" cocoa powder vs. Dutch-processed (or alkalized cocoa powder)
It's essential that you use natural cocoa powder in this recipe. Baking soda (the leavener in this zucchini bread recipe) is alkaline and requires acidity to do its job. By nature, cocoa powder/chocolate is acidic. Dutch-processed cocoa is treated to be alkaline (you may also see it labeled as "alkalized cocoa powder"). Without natural cocoa powder's acidity, your chocolate zucchini bread won't rise properly!
Natural cocoa powder is lighter in colour and its flavour is rich, chocolatey, and bitter. Dutch-processed cocoa powder is deeper and darker in colour and has a milder flavour.
From big brands, Hershey's and Fry's are good examples of each type of cocoa powder. Hershey's is a natural cocoa powder, Fry's is an alkalized cocoa powder. For this recipe I used Camino's natural cocoa powder (they sell both types). They're a Canadian brand that makes organic, fair trade chocolate products and other baking ingredients.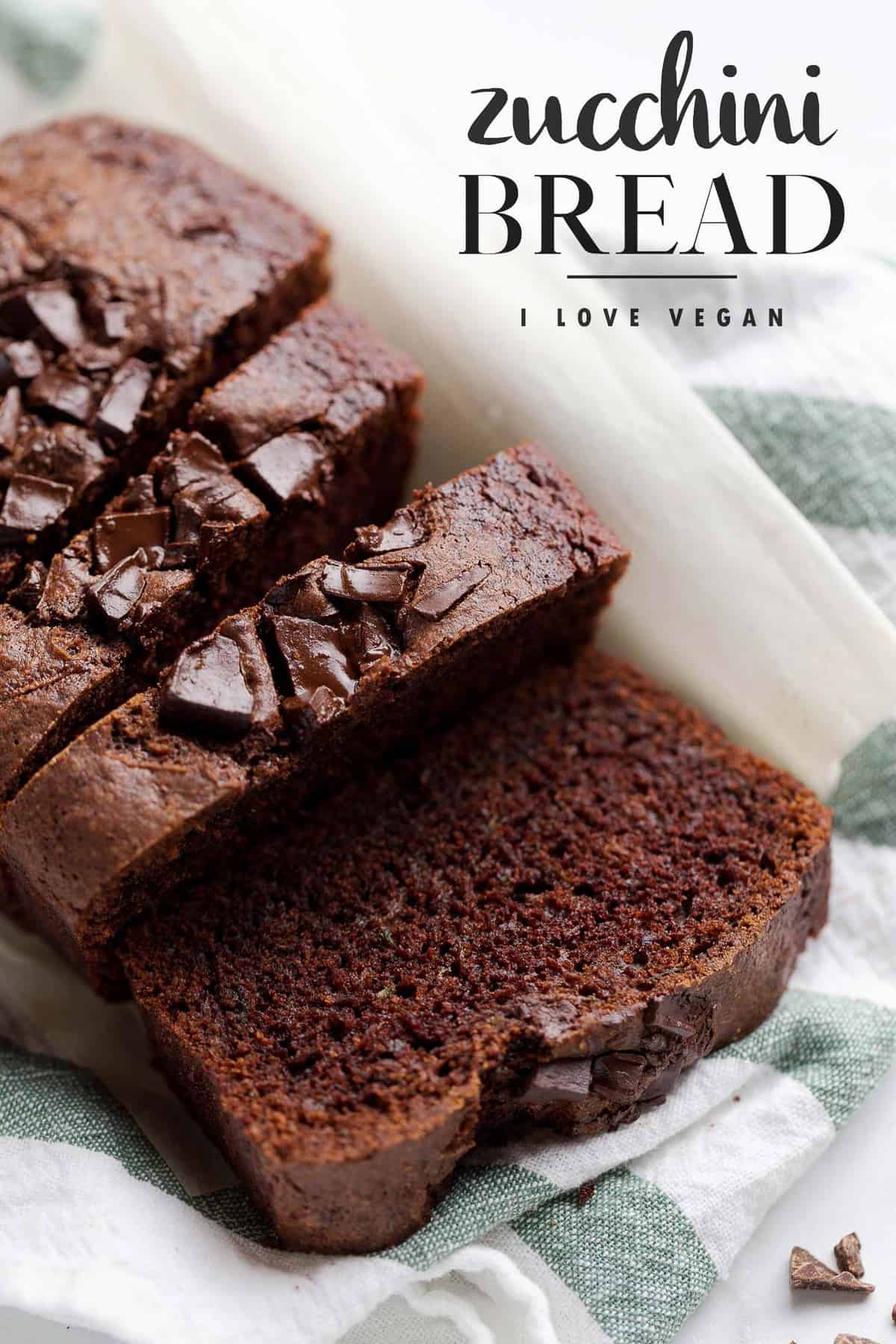 Notes and Substitutions:
Before baking, give your zucchini bread a tempting, "Instagram-y" look by sprinkling roughly chopped chocolate chunks down the center of the loaf.
Or top with chopped pecans or walnuts instead!
Any non-dairy milk will work. I tested the recipe with both oat milk and cashew milk.
Gluten free baking is not my forte so I can't guarantee that using gluten free flour will work. But if you want to experiment with making this zucchini bread gluten free, I'd love to hear how it goes! (If I were to give it a shot, I'd start with a gluten free all-purpose flour blend (rather than using a single ingredient flour.)
More vegan recipes like this:
Print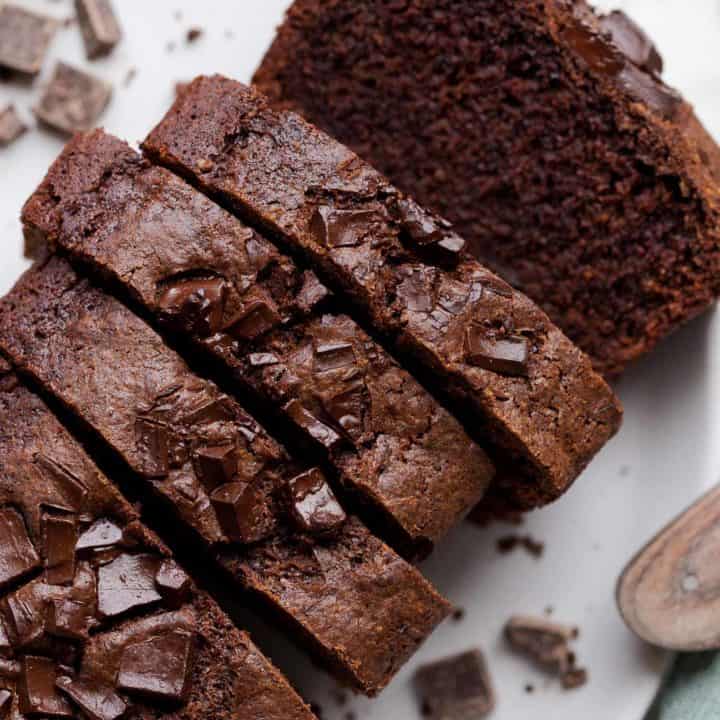 Vegan Chocolate Zucchini Bread
Author:

Prep Time:

15 minutes

Cook Time:

1 hour, 10 minutes

Total Time:

1 hour 25 minutes

Yield:

1

loaf

1

x

Category:

Baking

Method:

Baking

Cuisine:

Vegan

Diet:

Vegan
---
Description
This vegan chocolate zucchini bread is moist, sweet, and decadent. Preparation takes 15 minutes and then you're ready to pop it in the oven! Freezer-friendly.
---
½ cup

(

125

ml) non-dairy milk

2 tbsp

(

15 grams

) ground flax seed

1 cup

packed (

155 grams

) grated zucchini (approximately 1 medium zucchini)

1 cup

(

225 grams

) sugar

⅓ cup

(

80

ml) canola oil

1 tsp

(

5

ml) vanilla extract

1 ½ cups

(

180 grams

) all-purpose flour

⅓ cup

(

30 grams

) natural cocoa powder (do not substitute with Dutch processed/alkalized cocoa)

¾ tsp

(

3.75

ml) baking soda

½ tsp

(

2.5

ml) salt
Dark chocolate chunks or chocolate chips, to taste (Optional)
---
Instructions
Preheat the oven to 350°F (177°C). Line a loaf pan with parchment paper.
In a medium-sized bowl, combine non-dairy milk and flax. Set aside for 5 minutes.
In a large bowl, sift together the flour, natural cocoa powder, baking soda, and salt. Mix and set aside.
Once the milk and flax seed mixture has thickened slightly, add the grated zucchini, sugar, canola oil, and vanilla to the bowl.
Once the oven is preheated, stir the wet ingredients into the dry ingredients. Immediately transfer the batter into the parchment lined loaf pan. If desired, top with chocolate chunks. Immediately put the loaf in the oven and bake for 70 minutes (or until the loaf is cracked and a toothpick inserted in the center comes out clean.)
Transfer zucchini loaf to a cooling rack. Wait until cool to slice the loaf. Store in an air-tight container.
---
Notes
If your zucchini is very dry, give it a quick soak in water before shaking out any excess moisture using a strainer. (Don't squeeze it though, just shake out as much as you can.)
Keywords: vegan chocolate zucchini bread, vegan zucchini bread